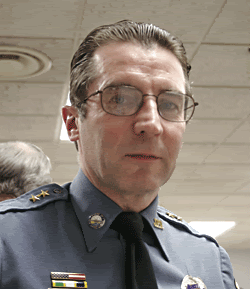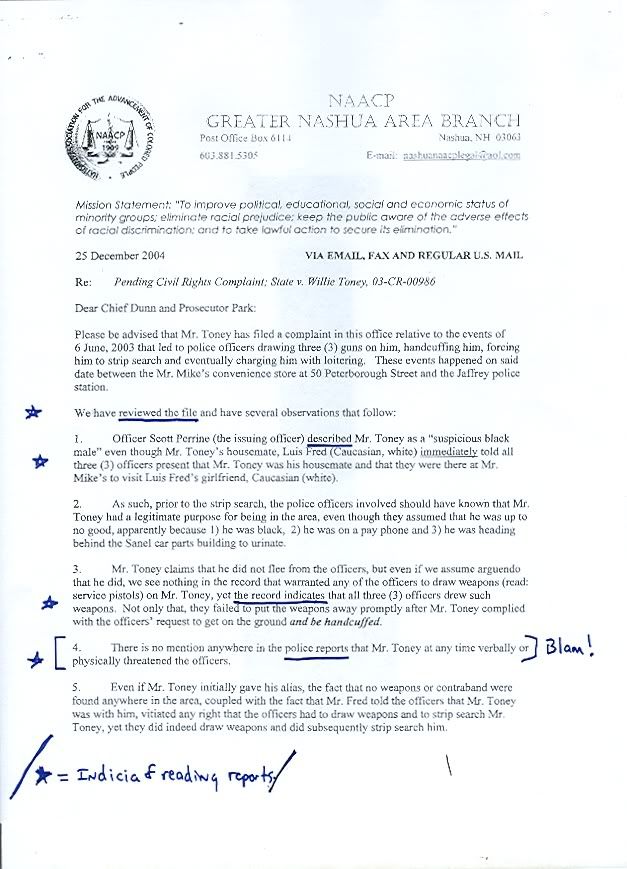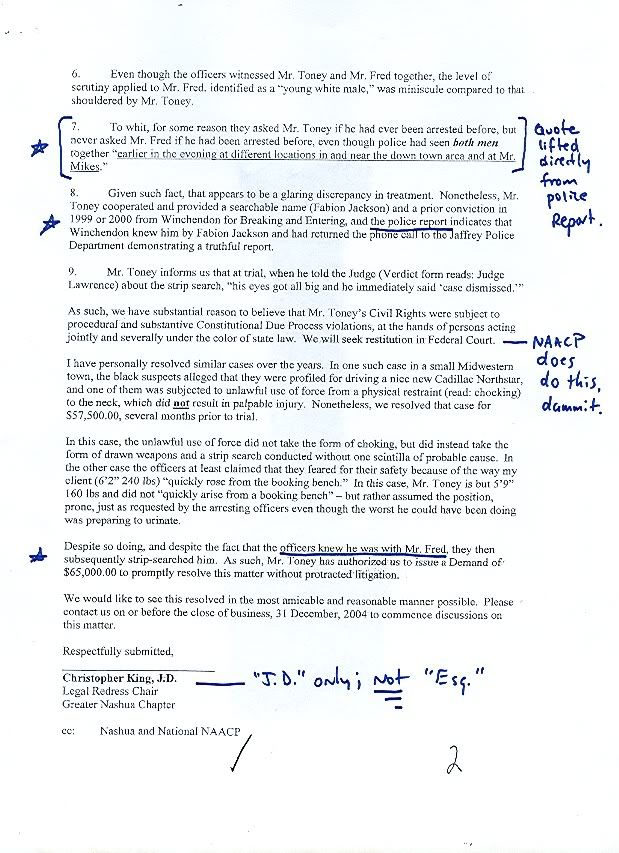 I've had enough of this shit. Read
right here
where Chief Dunn admits to sending me and several other people an
email
in which he wrote that I sent the Willie Toney Demand Letter "BEFORE [I] had an opportunity to gather any facts."
Too bad the annotated
Demand
/
Letter
clearly shows otherwise, as well as the fact that he committed perjury up in that Deposition room. Wherefore now I go back to the Court that improperly dismissed my Civil Complaint and file a notice of Perjury and request a hearing -- because God knows the
Chief Justice
of the NH Superior Court -- not to mention the
NH Supreme Court Justice
who first had the case -- should care about such abuses in their Courtroom, right? And I'm shipping a copy of it off to the NH Attorney General and the Town of Jaffrey selectmen, so I can tell the Jury all about my efforts to protect people from government abuse.
In fact, the school children and parents of school children of Columbus, Ohio and beyond are about to thank my film maker and me for such efforts shortly. Let's hope I get a chance to watch our own film, right?
Visit
Justice for Kids.net
and view this
blawg entry
for details.
Note:
I told the World about Dunn's lie
the same day
I took the little liar's Deposition but couldn't afford it. I will personally see to it that Chief Dunn never works another cop job in his fucking life for what he and the scared-assed niggers at the NAACP including Boston President
Lenny Alkins
and CEO Bruce Gordon (who
supports perjury
) have done to me in the past year. Fuck
all
of you lying-assed haters. Please excuse my language, for I am truly sorry that I have stooped to their level on 6.6.06.
Your Honors, please prove to me I am more than just a nigger in New Hampshire, the
last State in the Union
to pay respects to Dr. Martin Luther King.
Note:
Dunn has
not
lost his job; it is my opinion that he
should
. Also we
do
know that
nobody else wants him
, and that they tried to fire his ass and pay him off on
two prior occasions
. Perhaps now the lying under Oath will give them the silver bullet they need to wax this fucking maggot, but good.