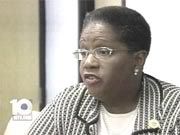 After the Columbus, OH Mifflin High gang rape debacle, good ol'
"No-Confidence Vote"
superintendent Gene Harris "instructed [staff] to get police involved whenever needed,
no matter what
," according to WBNS-10 news. Okay, so WTF happened at West High then on
Valentine's Day 2006?
They didn't contact the police a-tall. No word of a lie. But the story also says Harris told staff that
"administrators need to respond to such incidents as if they involved their own children."
Read the Harris letter to the mother
right here
: Click on the images and expand to read. Grab large plastic baggie; then barf. Seal contents and discard at 270 E State St, Columbus, 43215, but call first at 614.365.5000 to let them know you're on the way :)