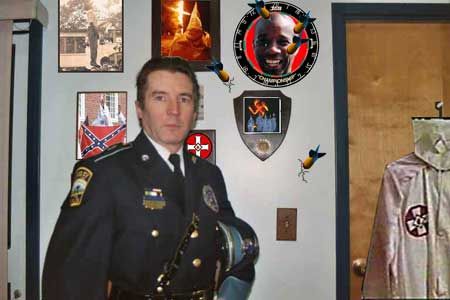 We shall see. Well, today it was apparently
confirmed
. They prolly don't like him
lying
under Oath or
laughing
about
prison rape
. Add that to the
4 April 2006
entry noting his ass was rejected from other municipalities and I must say, as I told
my writer
earlier today, I'm proclaiming victory. More on that discussion later.
Anyway, at least Chief Dunn isn't
on crack
, but the net result is still the same: He attacks my
integrity
and winds up stepping on his own ying-yang. Retired Hollis Chief Darling had a rep as a bit of a 'hard ass,' but at least he was reasonable and competent according to
this piece
. Here's the best part on Darling's retirement:
He said he might create a consulting business to help other towns in need of a police chief find qualified candidates.
It couldn't be any better if I made it up myself.
KingCast.net
;
Justiceforkids.net
: The Revolution will be
televised
.
Blawg yahtzee:
The Meeting
.