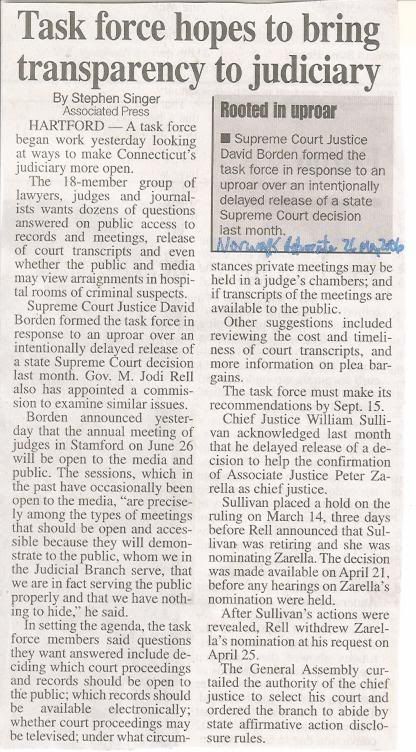 Fresh Air
Citing KingCast's work in exposing the
ethics violations
of former NAACP Legal Redress Chief Counsel Elaine R. Jones in delaying a case decision to affect a judicial appointment vote, the Connecticut Bar Association personally telephoned me Friday to inform me that they want to run video at
KingCast
of the ongoing developments in the Connecticut case where the
same damn thing
happened as reported in the 26 May Norwalk Advocate.
"Mr. King deserves a Pulitzer, not a Prison cell,"
said Supreme Court Justice
David Borden
at Friday's press conference. "We especially vibe on his work in exposing
criminal negligence
in Columbus Public Schools that led to him being sanctioned by the Judge Sargus, and his unlawful 1 year suspension from practice in Ohio." His Honor then turned directly toward me and reminded me: "Young man, there's a line in
Palmetto
where Chloe Sevigny turns to Woody Harrelson and she goes,
'Corruption in City Hall... what a shocker!'
... Now I see why even teachers at Columbus Public Schools are
afraid to speak up
."

Note:
Parody. But read today's Blawg Yahtzee, "So I says to the guy, we're fighting government secrecy," from
5 March 2006
. It is not parody. It is serious business.
KingCast.net
: 21st Century Civil Rights.