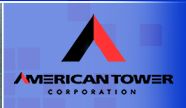 Well
James ol' Boy
, looks like Boston Globe
scooped you
on the U.S. Justice Department securities subpoena regarding how corporations pay their elite. Read this Wireless Week
story
, too. And I really like this one,
'gone are the days of a hard day's work for an honest dollar,'
in the Wireless Report Blog piece,
Stock option grant situation plagues American Tower
.
Whatever is or is not proved by the inquiry, I have certainly proved that
American Tower
/
Corp
and their
lawyers
are reptilian-slick'n'sleazy corporate pigs, going into this blawg illegally and getting
reversed
by blogger attorneys. What a shame, because there are plenty of
responsible
/
companies
out there who treat employees right and don't
violate known law
. All of my detractors are getting shot down in flames just prior to my criminal trial. Look at those public school board haters in Columbus,
abusing children
and covering it up.
This is a good
summary piece
with pictures of ATC slime bags Jim Taiclet Aileen Torrance, Esq. about how the Company lied to Chief Dunn to help get me indicted and reduce my bargaining power during my lawsuit against ATC -- in which they
violated
a Federal Discovery Cour ORDER, by the way, much to the chagrin me me and my well-seasoned attorney
Scott A. Lathrop, Esq
. -- in a ridiculous case in New Hampshire where I tried to help Willie Toney, the victim of
police abuse
.
And I'm telling every reporter who covers this story about the fact that
my letter
to former ATC Chairman Dodge resulted in me getting fired, even tough Corey Surett, Esq. and the Department of Labor
concurred
that overtime was owed in a $300,000.00 settlement. They should have paid more. Now maybe they will.
Watch the movies at
KingCast.net
: "American Lawyer II and III."