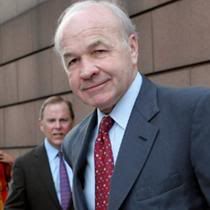 Well, folks, meet the Fockers. Whether or not American Tower's corporate brass --
"plagued"
by a pending U.S. Justice Department securities subpoena -- takes a tumble and a conviction like Enron's
Jeff Skilling and Ken Lay
remains to be seen. What we do know, however, is that they are the biggest bunch of
assholes
I've ever worked for, that's for sure. At least one other employee, who was also the only other employee to earn a $6K raise in 2002 (though she did not attain employee of the week status as did I) agrees.
Watch her twin sister tell the story in American Lawyer II/III @
KingCast.net
.
All of my professional life I have faught corporate and other big bullies, and I've taken a lot of hard knocks for it -- even from some supposed "liberals." With the patent abuse of Columbus School children and unreported and
un-investigated attacks
against children by known felons, and with the American Tower subpoena, more people are seeing that my positions have substantial merit. And to those who don't, such as Daily Kos's GN1927 in particular, you can kiss my black ass, sweetie.