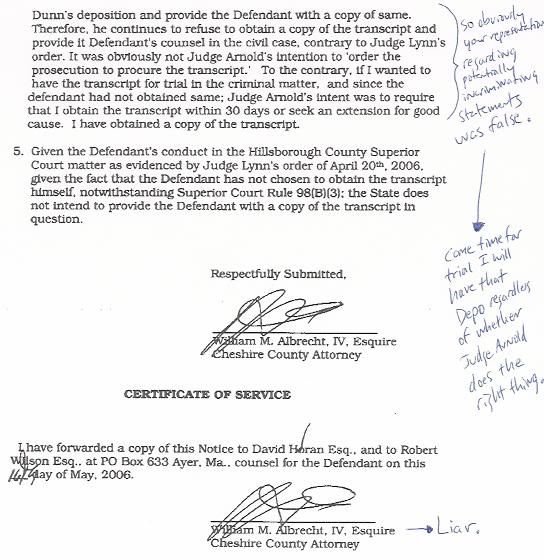 I have told you on
prior occasion
where the State of New Hampshire doesn't give a shit about Due Process in my case. Here's another example, where Prosecutor
Bill Albrecht
stands in complete violation of Superior Court Rule 98(B)(3). He also got tomorrow's Final Pretrial continued to a date not set by the Court. Unbelievable.
First of all
, Judge Arnold's goddamn court ORDER, as noted in Albrecht's motion, reads as follows although Albrecht left out the Good Part I have highlighted
"...[T]he Court finds that the State's argument that Chief Dunn's Deposition is important to the State's case in light of recent disclosures that [Mr. King] made potentially incriminating statements during the course of the civil deposition compelling. The State shall obtain a transcript of Chief Dunn's deposition at its own expense within 30 days or request an extension for good cause."
Second
, the Rule requires production of exculpatory evidence. The indictment was issued the
next business day
after I sent
this email
notifying Dunn and NAACP of this blawg, with the
critical post
"Why the NAACP is a sellout organization." That is relevant because in the Deposition Dunn states the he finds this blawg "despicable," and a reasonable trier of fact could find that the entire indictment was set forward out of malice and irrespective of the law. And if that's not good enough, I catch him red-handed
issuing lies
about how I allegedly proceeded to write the Demand Letter without conducting any investigation -- even though it is obvious by the letter that I did indeed read the police reports --
all of which is exculpatory because it shows Good Faith
. Duh. Now that they bought it, it has to be produced. Sorry, guys ordering it was
your
mistake :)
Third,
they got the extension to call former
Eden & Rafferty
file manager Devon Saywer, J.D. - who gave me
police abuse victim
Willie Toney's name on a matchbook because Mr. Toney's friend was an E&R client, contrary to what NAACP and Chief Dunn represented to the media at large - yet as of 21 May 2006 more than 6 weeks have passed and they
still
haven't called that lil'
nigger boy
.
Blawg yahtzee:
Doomsday for Dunn: Deposition Transcript Due
.