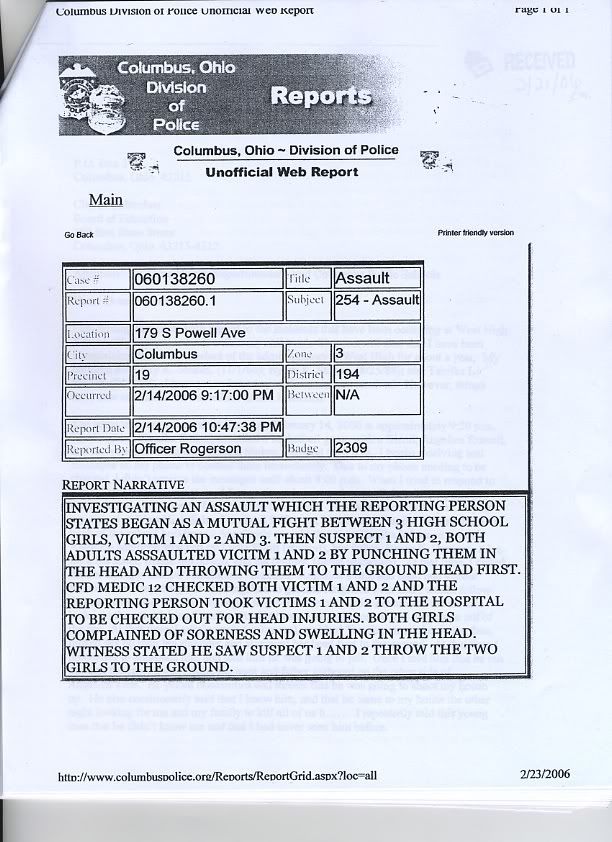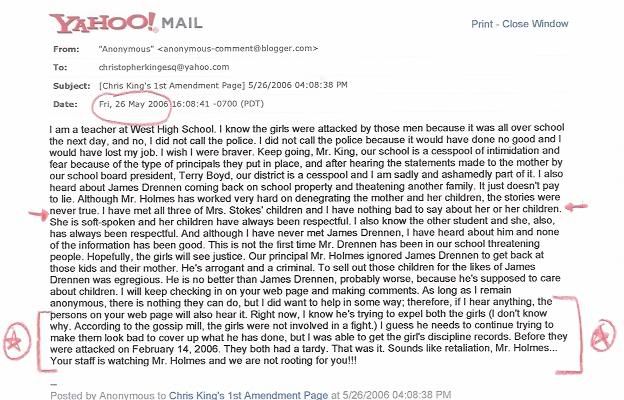 Livin' foul
"...I have met all three of Mrs. Stokes' children and I have nothing bad to say about her or her children. She is soft-spoken and her children have always been respectful. I also know the other student and she, also, has always been respectful..... Right now, I know he's trying to expel both the girls .....I was able to get the girl's discipline records. Before they were attacked on February 14, 2006. They both had a tardy. That was it. Sounds like retaliation, Mr. Holmes... Your staff is watching Mr. Holmes and we are not rooting for you!!!"
Columbus Public School Board President Terry Boyd, and Superintendent Gene Harris are in my opinion criminally negligent. Read Gene Harris' letter to Ms. Stokes
here
. And the Ohio "Justice" system, including Judge Sargus, is in my opinion negligent in like measure for raining down inappropriate sanctions on me so that they could help cover up more abuse back in the 1990's. Link
here
for more background on that and expand the scans when they open.
BTW,
a former administrator at West High and co-director of PASS informs me that Ms. Stokes is
not
allowed to speak at the school board meeting on 6 June 2006 because the CPS crooks and liars issued her a 'no-trespass' letter. At least she can honestly say that the Board is paying her more attention than the felon James Drennen, who
attacked
her child because not even
he
has a no-trespass letter.
KingCast.net
: 21st Century Civil Rights.