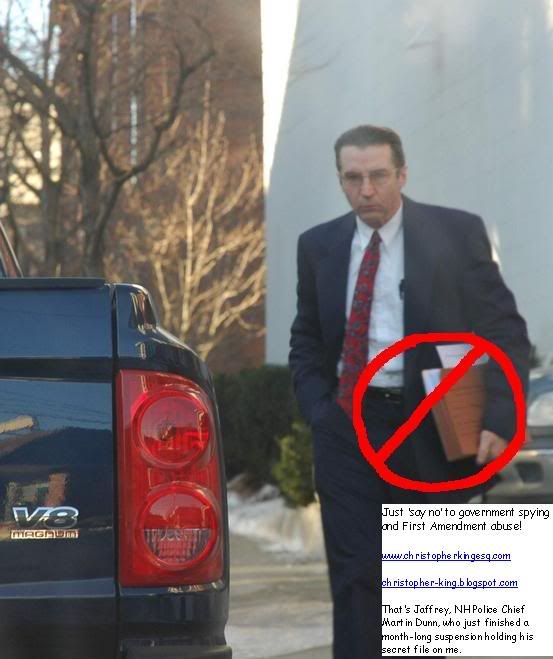 A
new comment
came in regarding this tool today. There he is holding a secret spy file on me with exculpatory evidence in it in his dirty left hand. Judge Arnold is
soon to rule
on another Rule 98 matter involving Dunn's Civil Deposition that Prosecutor Albrecht continued my trial over, now refuses to provide in contempt of Rule 98 and
Arnold's Court ORDER
, noting that the continuance was occasioned because of incriminating statements I allegedly made while taking Dunn's Depo. That's bullshit.
Here's a
partial list
of the
real
reasons that Persecutor Albrecht is hiding the Deposition, and why Judge Arnold has to review it and ORDER it made part of the Court file. In my opinion I did not receive a fair ruling before from Judge Arnold on the Rule 98 spy file, but I feel confident that this time, because His Honor was compelled to continue the trial because of this very issue, he will see to it that a criminal defendant receives due consideration in the New Hampshire Judicial system.
Point of clarification:
Judge Arnold denied our request to review Chief Dunn's personnel file in spite of the fact that one of the reasons he was suspended, according to Town Counsel Debra Ford, Esq., is that he kept improper files on employees and town citizens.
No word of a lie
.
Anyway
,
nobody hired
his
over-budget
,
"slime-bag"
ass so Jaffrey is stuck with him, even though they tried to
buy him out
/
twice
. Still the NAACP, throught liars like Nashua President
Gloria Timmons
, and Boston President
Lenny Alkins
, stands beside him as a paragon of all that is good, or at least hopefully good enough to silence me. They will even lie
under Oath
to try to shut me down.
KingCast.net
: 21st Century Civil Rights.