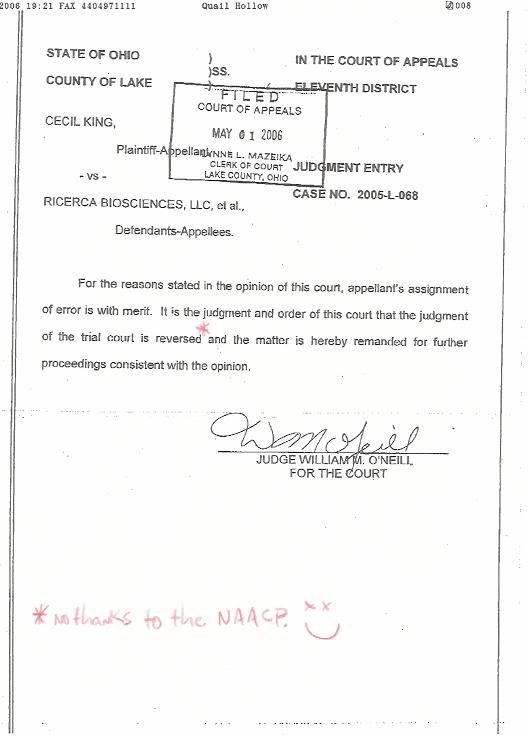 Liz Phair
On
Fat Tuesday
I told you how the NAACP network of referral attorneys screwed my father, a 37-year employee of Diamond Shamrock and successors. Well on Cinco de Mayo he faxed me at my sisters to let us know we won that appeal. I'll take the credit for writing that brief, thank you. I win appellate cases for immigrants in the
same fashion
. Put me anywhere near a neutral arbiter and I'm going to kick some serious ass. That's one reason why they hate me, but hatred and envy are ignorant emotions, people. The
NAACP
sucks, but I
rock
.
And if you want to get me for Unlicensed Practice of Law on that case you
haters
, have at it. It just makes the book and movie all the better: My father (and
mother
) gave me everything they could in this World, including the high-dollar education I use on this blawg every day.
He's worth it
.
And it's particularly nice to sustain a victory against
Peter Kirsanow, Esq.,
the current Bush National Labor Relations Board appointee and former U.S. Commissioner on Civil Rights. Chief
Dunn:
Not a
"fantasy,"
you hater. Wanna ask my father, or just lock his ass up, too? What a coupla' upitty niggas
we
are, huh, demanding Civil Rights and whatnot. Besides, it looks like Gloria is the one who needs a
reality check
.
And thanks to my
sister
during my time of need, but it's all in Honor of
Mother Ann
, my father's Great-Aunt.
"Keep on keeping on Son,"
she always told me. I will, Mother Ann. I promise.