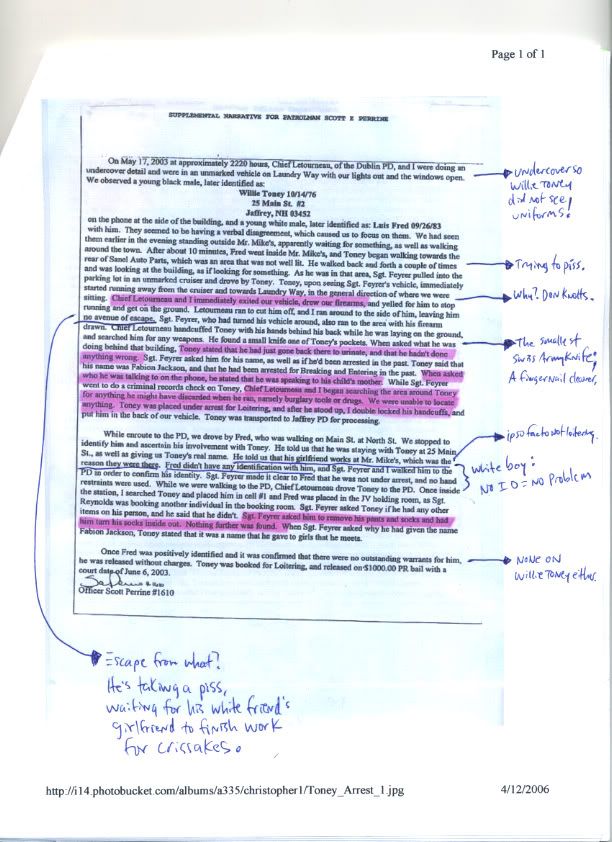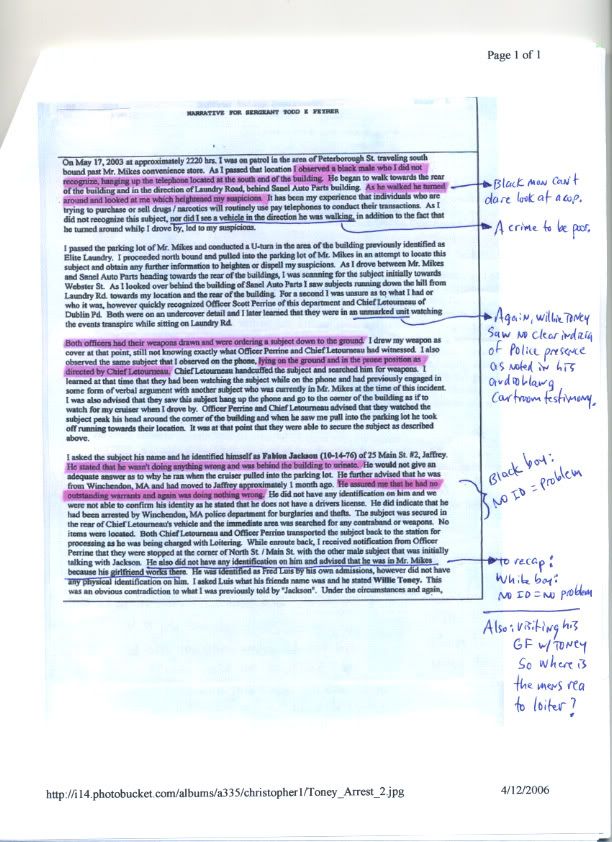 So where are these guys who stuck 3 police guns in the Willie Toney's face, conducted a visual body cavity search and charged him with.... drumroll please.... loitering?
Jaffrey PD
page
indicates they are long gone. Notice the bottom of the second page where it
clearly
reads 4 lines up from the bottom that Luis (the white,
unarrested
guy they knew was with Willie Toney) told the cops they were there to wait on his girlfriend --
ipso facto
not loitering. And the only reason
Toney
- who wants to see a movie and contrary to Chief Dunn's "victim pool" statement is not upset with me - gave them his alias is because that's the name under which his priors were listed. If he had given them his real name and they found out later they prolly would've beat him with a rubber hose! Listen to Willie explain it during his court hearing in the audioblawg above, including the fact that he didn't really run from these undercover white men; he just happened to have his d*ck out to urinate. If
anything
, they should have charged him with indecent exposure and let that be that.
Watch Mr. Toney and me walk and talk in the "Live Revolution"
trailer
, and you will also see NH Union Leader writer Steve Seitz take notes to a story they never ran, even though he told me in an email that he submitted it. Also, on the
issue
of Deposition transcripts being posted on line, I just watched
"Lawyerman"
again one last time before the new podcast site goes up with even better production values. It's a 4-minute gem. Hats off to studioDHARMA, you are one
bad M-F
, jack.
PS:
They have
both
/
moved
to Antrim, where Feyrer, pictured, is Chief. Honestly I wish them both all the safety and luck in the World. But I still think they made a mistake with Willie Toney, and for Chief Dunn to imply that Toney doesn't have grounds for a complaint is simply ridiculous.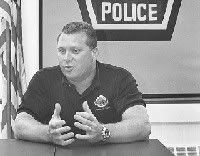 PPS:
But oooh, oooh,
Mr. Kotter
, it gets better, said
Horshack
:
At
p.1
Officer Perrine Identfies Toney's roomie as "Fred" 3 lines up from the bottom, and on
p.2
Feyrer calls him "Luis" while
noting the lack of identification
. Therefore the white boy didn't need any correct identification but that nigger Willie got his
ass opened
up a bit, huh? I retract my no-swearing zone for this post; what we have here is an
Orange-zone
terror alert against Justice: F*ck
anybody
who condones this nonsense. And some detractor of mine said I forgot all about Willie Toney. Pshaw. I just save the best for last.