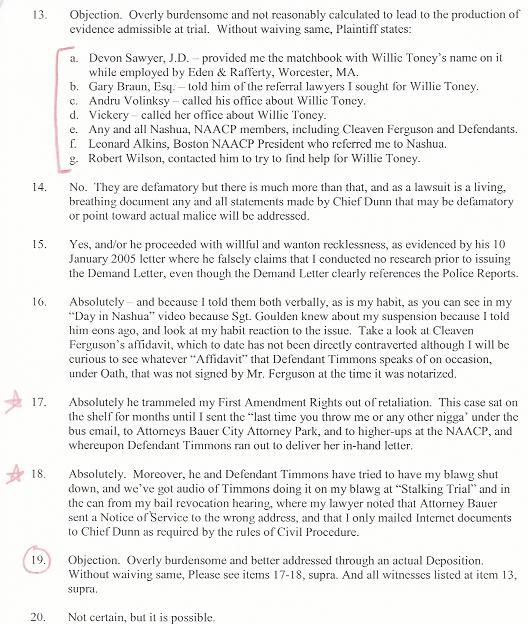 Trouble
Charlie Bauer willfully misrepresented to the Court that I did not answer Interrogatory #19 (identify all facts and witnesses that support your contention that Defendants Timmons and Dunn engaged in conspiracy). But clearly
I did
. He read only the
first line
of my response and made the judge yell at me. But look at my
full
response, which referred him to paras. 17-18
as well as
a full witness list at para. 13. And the Court tossed the Conspiracy case anyway so WTF? Here then, is my Compliance (
1
) & (
2
) with the Court ORDER that Bauer's chicanery precipitated, referencing the JPEG's discovery
responses
above. If he gets away without any sort of sanction may the Lord have mercy on
all
of our souls.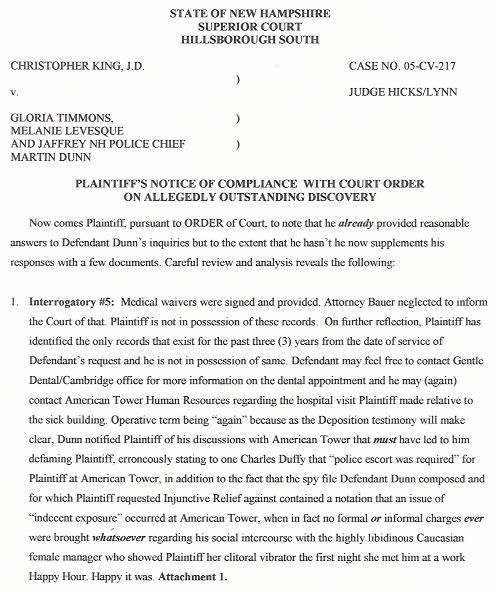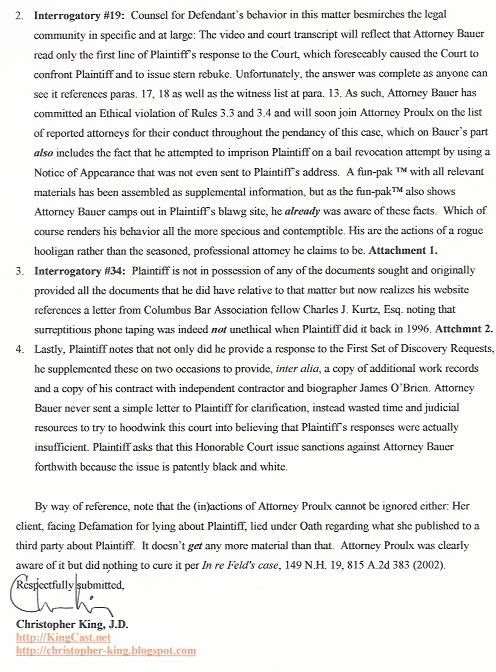 And let's not forget that
Notice of Appearance
you sent to the wrong address, Charlie, yet tried to use it to incarcerate me in the criminal matter on the bail revocation attempt that had me so tired and nervous I missed a shift and shattered my transmission in the
Convertible
I worked so hard to buy. Did
corporate shill
Bruce Gordon ask you to do that or what? Now I'm broke as hell and your shenanigans are costing me another $15-20.00 to copy and send the Court the aforementioned responses that you
already
had in your possession. You suck, but I'm gonna' fix your wagon good, amigo.
Charlie, you are still a liar and now on video being an
ass
.
Study Rules
3.3
and
3.4
because we will send a copy of the new movie with you in it, along with Orr & Reno's Maria Proulx -- also in
violation
of said rules -- to the ethics panel, American Bar Association and anywhere else
we
deem appropriate. And of course we will feature both y'all in the new video podcast
website
. We'll invite some
friends
. Lotsa'
friends
.
Proulx
, 31 October 2005: "I don't watch your movies."
King
, 21 April, 2006: "She does now."
Peace
.
PS:
There's a reason people like Columbus, Ohio historian and black studies major James Whitaker followed me around at virtually no charge ten (10) years ago rolling video, and you can listen to him tell you why in this
first segment
of our interview sessions, taped in January, 2006.