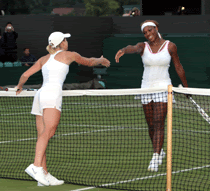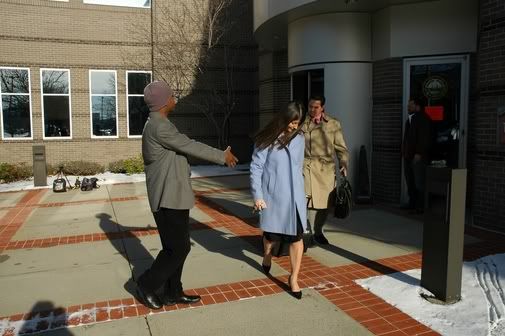 I am a 4.0 NTRP Tennis Player, definitely less than a 5.0 on any consistent basis. So I can lose to 3.5's and anything up. And when I do, I always shake my opponent's hand, regardless of race or sex. You learn in loss and you learn in victory. One of my toughest matches I lost was to a female collegiate tournament-playin' teaching pro in Columbus in a 9-11 pro set. She was (and still is, in all likeliehood) white, and I bought the first beer after the match, to boot. Anyway, read
"tennis heirarchy."
So why is it some white folks -- "professional" attorneys, even -- can't shake my hand or give me a begrudging shake at that? Why did Columbus Prosecutor Robert Tobias act that way in
"American Lawyer I"
when you can see my professional demeanor toward him and the court as I whupped his ass on a First Amendment criminal trial? Why are some white people, who ruin things for good white-folk like my brother-in-law --
so
upset about my media team putting their true faces and courtroom presentations online? As noted below, it was okay for Orr & Reno's cretinous clients WMUR to
boost
video from my site and use it to portray me as a felon, but now Charlie Bauer and Orr & Reno's Maria Proulx try (but correctly fail) to restrict my efforts to put them up for view. They need to read this perp-walk
analogy
because everything they have to say is just bullshit. But that's what
CEO Bruce Gordon
and the NAACP support these days.
Orr-Reno's Maria Proulx
bullshit moment of the day, near-quote:
"He needs to be taught a lesson."
Wait a minute. This lawyer who lies about knowing when Gloria Timmons received Discovery Service or who can't read a
damn
/
file
. She also allows Timmons to issue
patently
false statements under
Oath
regarding what she tells other people about me -- in a defamation case -- and then says
I
need to be taught a lesson? Negro
please
.
Ransmeier-Spellman's Charlie Bauer
bullshit moments of the day, near quotes:
1.
"This is going right up on his blog."
You bet. Pretty sharp stuff for a defrocked nigger lawyer, eh? In fact to you, Judge Lynn said "so what?"
2.
"We had no advance notice as usual this man (me) springs this on the court at the last minute"...followed by...."As usual, King was there with his crew."
Is this schitzophrenia setting in for you Charlie, or what? You can't name the last time my film crew failed to show because it's like clockwork.
Always
there.
A-U-T-O-matic
.
3.
"That man has chosen to place the criminal case over this one."
Well, duh -- that case was tracked ahead of this one, and you twice tried to arrest me in that venue, once even using a damn
Notice of Appearance
that you didn't even send to my address, Charlie. Wow you have
no shame.
And
all
the lawyers said they were ready for trial for April 3, but the State jacked me off again. It takes time to prepare for criminal trial, Charlie. The State wasted my time and resources and my largely pro-bono lawyers money. So bullshit on that, Dude. Not to mention I gotta' deal with scumbag attorney Richard C. Van Nostrand and/or his client
unlawfully
deleting entries of this blawg -- which is a
goddamn legal database
.
4.
"We're working with limited resources."
Say what? Don't make me laugh you friggin'
Bruno Magli
shoe-wearin' brand-new Toyota Solara Convertible-driving corporate shill. You work for a blue-blood firm and have the entire machinery of the state working for you as noted in
U.S. v. Carmichael
. I've got a handful of dedicated First Amendment types giving me whatever they can to keep this case out in the open. I'll never tell you who our investors are; they are not rich but they are good and
pissed off
, that's for certain. Soon there will be more, and the new website is almost up, and a clip of you not shaking my hand the second time -- after you lost your hearing -- will soon appear there. FWIW your handshake
is
kinda weak; next time don't worry the black won't wear off.
.....Then
he says he needs me to order the deposition I took of Chief Dunn (who the town
offered $25K
to go away) so he can send it to a shrink to analyze my antics in the courthouse depo room. Wait, Dude that's bullshit, too: I requested a copy of the courtroom tape the day after the hearing to show him and Chief Dunn laughing about me getting my
ass reamed
in prison. If anybody has lost their damn minds, it's the folks on the
other
side of the counsel table. Negro
please
.
On viewing the NAACP contingent present in Court today, one of my investors' comments was golden: "Those are some
seriously
Uncle Tom negroes."