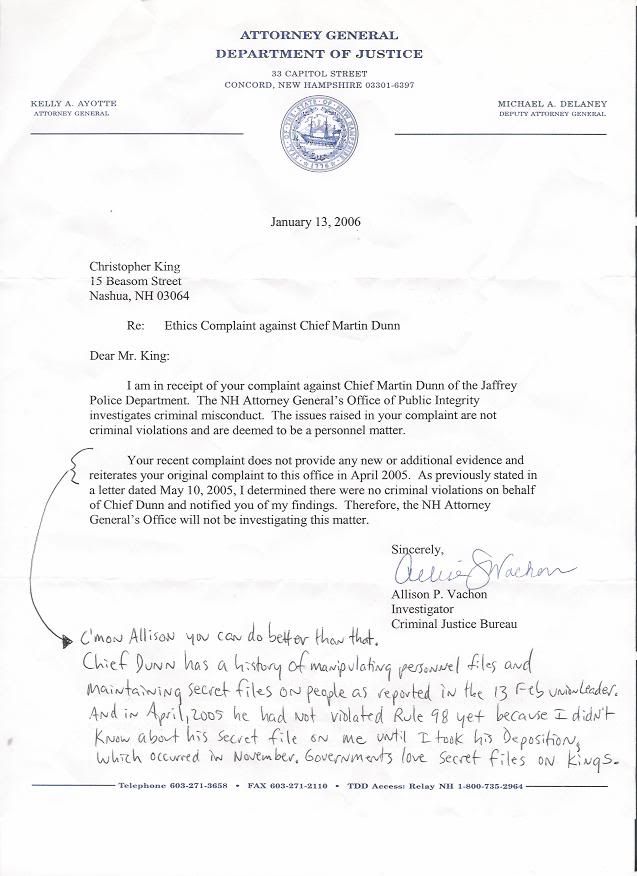 I've shown you where the AG's office ignored:
1.
A clear-cut
wire fraud
issue where someone misappropriated my signature and notary seal and sent the mortgage off for funding via fax.
2.
My original complaint against Chief Dunn, who you can see in this
picture
with the recently-outgoing AAG Peter Heed (dunn l, Heed, r), who was perhaps made a patsy and resigned under a
sex scandal
. Heed was Dunn's right-hand-man in Cheshire County as a prosecutor before Bill Albrecht stepped in.
3.
Now I show you how they
lied
about a
material
distinction in an attempt to cover up my new complaint about Chief Dunn and his spy file on me he garnered pursuant to his edict to "see what I've been doing in the five states I've moved into and out of," which ironically was making megabucks for people like NAACP CEO
Bruce Gordon
!
4.
And I show you how their lead witness lied and
disappeared
, but the court still accepted her affidavit to get me nailed on a preliminary injunction for Unlicensed Practice of Law. That case of course will lie fallow so I can't get any more testimony in until after my criminal trial. Interesting.