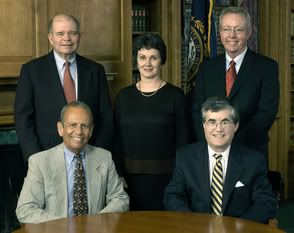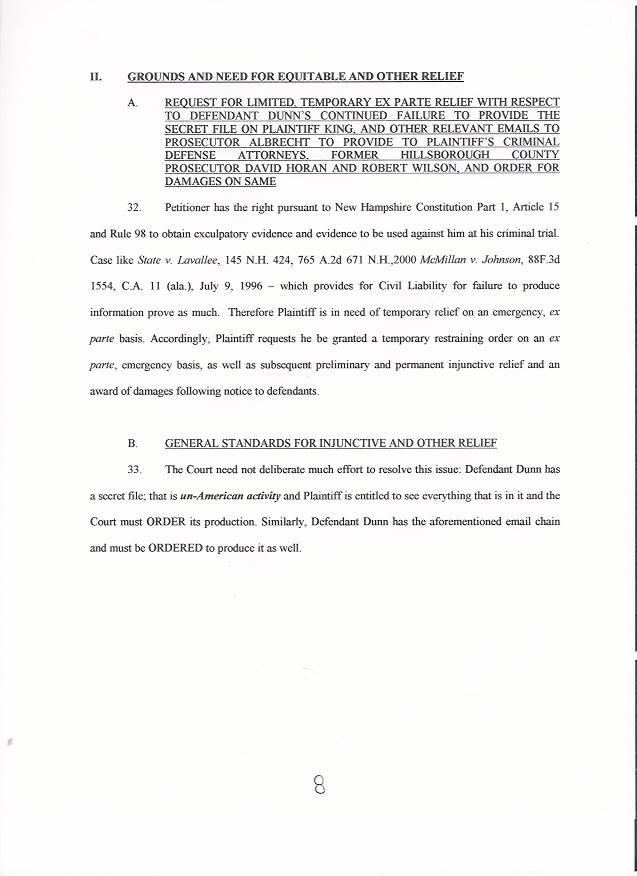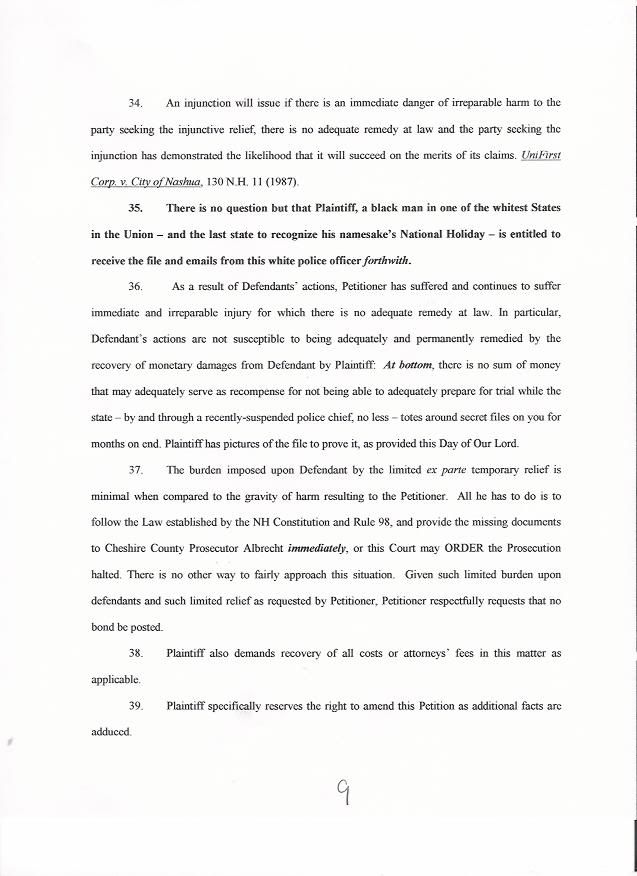 This is
crucial
. Apparently, I failed to communicate the urgency of my request for Injunctive relief to Hillsborough County Superior Court South in my Civil Defamation/Invasion of Privacy case against Defendant, Jaffrey NH Police Chief
"on the run"
/
Dunn
, as pertains to a secret file he has on me, as well as a clearly
exculpatory
email chain originally sent to Chief Dunn's suspension lawyer
Andru
/
Volinsky
, that Charlie Bauer should have forwarded to Chief Dunn, but which has not been produced pursuant to Rule 98. Bauer didn't even address the email issue in his Memorandum Contra, BTW.
My Motion was filed on or about
21 February
, 2006 and thanks to a motion to continue from Defendant Dunn, will not be heard until 18 April, 2006. That's two whole months on an Injunction hearing involving my liberty. It's also 4 days after my birthday, and most importantly, it is of course two weeks
after
my criminal trial. Which of course would render my entire Motion moot.
The file (not to mention the emails) is important because it contains exculpatory material garnered by Chief Dunn as he went about seeing
"what he could find on me in those 5 states I've moved into and out of,"
which ironically was pretty much making tons of money for people like NAACP CEO
Bruce
/
Gordon
. That email, distributed to all matter of NAACP muckety-mucks, was so
ill
-
tempered
it resulted in Chief Dunn facing Defamation claims from me that were not dismissed, despite his best efforts. Moreover, the Good Chief has been
ORDERED
to present his recent disciplinary file to the Criminal Court because he was, according to town counsel Debra Ford, "disciplined" for a "pattern of inappropriate conduct," which according to the Union Leader included
keeping files on staff and citizens
. Uncanny, right?
So now we will visit the Supreme Court on this issue. And there will be affidavits from my criminal defense attorneys, as well as a Motion to Reconsider in the Superior Court. All t's crossed, all i's dotted. So since I know you guys read my blog with
religious
/
fervor
, you can go pray that you withstand this challenge concerning my substantive and procedural Due Process Rights. And yes, this blawg entry will be an Attachment.
No cussin' today boys and girls. Just the Law. Have a nice weekend.
PS:
Sandra Day O'Connor (you may have heard of her) speaks out against dictatorships,
dammit
.
PPS:
Hi Charlie:
Mar 10 2006 11:35:27 64.69.110.2 37(pages viewed) RanSpell.com