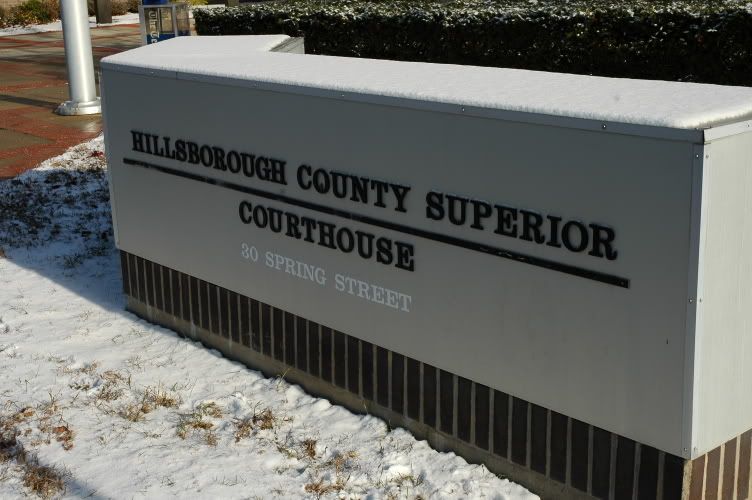 May it please the Court: For the reasons set forth in Exhibits
one
and
two
, before Plaintiff files with the New Hampshire Supreme Court, he respectfully moves this Court to reschedule the Preliminary Injunction hearing on the exculpatory evidence held by Defendant Dunn to a time prior to his criminal trial, as we have a police chief snooping on Plaintiff who has been
ORDERED
to produce his discipline file where he was
disciplined
for,
inter alia
, keeping secret files on people. Attachment
three
. Plaintiff's liberty is at stake and this court is vested with the appropriate authority to consider his motion as to Chief Dunn and the evidentiary trial he has not forwarded: Be it the Rule 98
file
he gathered out of animus to "see what he could find in those five states I've been in," or the
exculpatory
email chain that Attorney Bauer should have forwarded to him.
Frankly,
the way that the State is running its case against Plaintiff makes him wonder if Prosecutor Albrecht forwarded any exculpatory information to the Grand Jury
whatsoever
, or whether he just deceived the Grand Jury or significantly impaired its ability to exercise independent judgment.
State v. Hall
, 152 NH 374 (2005) citing
State v. Dayutis
, 127 NH 101 (1985). We all know that he publicly stated, on (mis)information from the NAACP, that the NAACP as an entity "does not sue," when that was and is a
materially
false statement. Did he, for example, provide the Grand Jury with this
email
or any of the correspondence I sent him?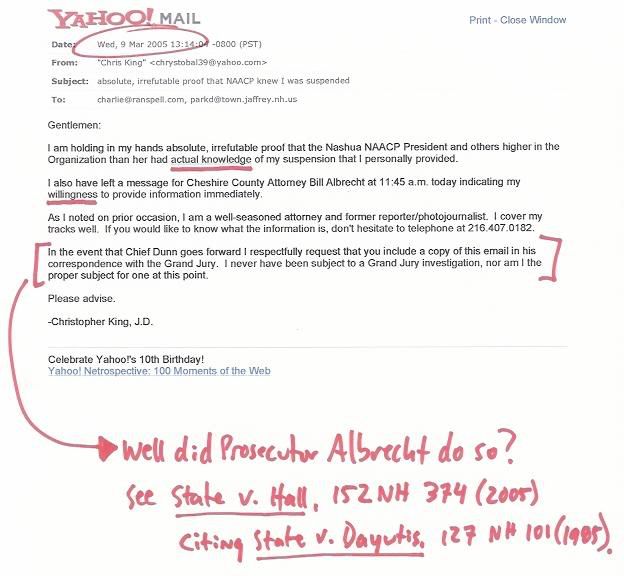 Perhaps someone should look into that, because that all happens in a vacuum. But this is happening right out in the open, and the State and Defendants can't stand it; tried and failed to shut down Plaintiff's blawg and website. As Attorney Bauer has on prior
occasion
asked the Court to go to Plaintiff's website, please do so, and listen and watch NAACP Defamation Defendant Timmons in "
Stalking trial
" and "
Day in Nashua
" at the website, and read the crushing defeat Plaintiff handed her in this
post
. Then watch Prosecutor Albrecht go to work in "
Oreo
". He even specifically mentions Plaintiff's First Amendment Rights as he tries to eviscerate them. They better get ready for the
future
of Law from
people
who are tired of getting the beat down.