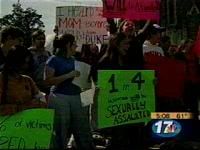 Stopped in for a pint at
O'Neills
to watch my
cousin
, and got a
shock
: A news
story
hidden for weeks about some privileged ($43K/yr I believe) white boys from Duke lacrosse team allegedly raping some brown sisters who were called there ostensibly to show a lil' flesh to a coupla' guys. Come to discover the whole team was there; the only black LAX player was not accused and the white boys refused to cooperate with the authorities.
Because if you don't, I'll get up with North Carolina NAACP communications wonk Jerry McClough -- who already wants to see a movie (
read comments
) and call in the
Marines
for the shit I'm going through in New Hampshire -- and get those young ladies and get them on video. Don't throw out any more
goddamn emails
, my niggas. Here's what Sports Illustrated
says
. I warned you
already
, I'm your worst f*cking nighmare: A nigga' with a law degree, a
writer
, a
film crew
and a
conscience
.
Again,
Bruce
, the choice is yours.
Do the Right Thing
.
Neighbor heard 'nigger':
A neighbor,
Jason Bissey
, said he should have called police when he noticed something was wrong. He said he saw at least 30 men enter the home, which Duke officials said is rented by three lacrosse team captains.
PS:
Here's Smoking Gun's
take
.
PPS1:
FWIW Bartender Kevin is a part of the lacrosse community and he is ashamed for his brethren; I told him I was going to blawg this thing straight away.
PPS2:
It broke at least
3 days ago
but they kept it on the DL.
PPS3:
The $300.00 Department of Labor assessment against
American Tower Corp
. I mention in the audioblawg is a mis-speak. It was
$300,000.00
.