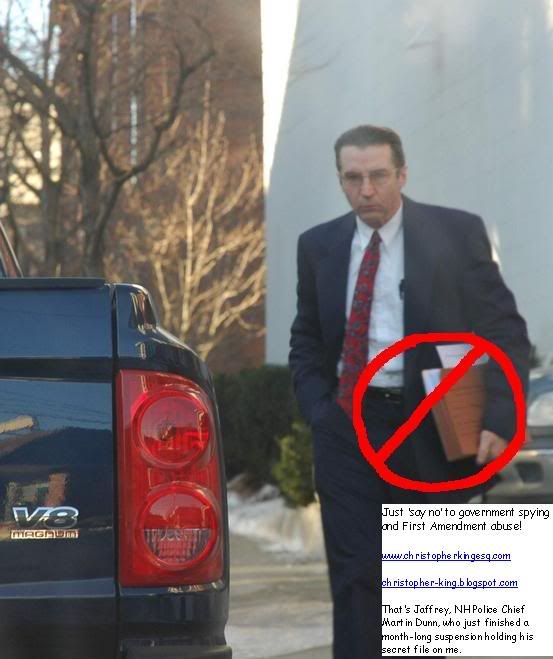 Here's a nice excerpt from his return email to potential police abuse (tasered) victim
Charles Duffy
, who cc'd me on an email sent to Dunn.
"He then moved to Mass., where he was fired from a job there, which required a police escort off the premises...." Fact:
there was no police escort on 20 August, 2002 when
American
/
Tower
Corp. walked me out of the building immediately after I correctly requested
overtime
.
Fact:
there was no police escort on 22 August, 2002 when I returned to the damn Woburn train station to retrieve my last check, under the guise of discussing my "future employment opportunities with American Tower."
Fact:
I have never been accused of a violent crime or crime of moral turpitude until Marty and Gloria came to town.
Fact:
I've got the voice of the former Jaffrey Police chief's offspring, with whom I used to work out and vacation on my voicemail. S/he is incredulous at the antics of the current administration. Ironically -- or perhaps not -- s/he was going to be a witness to support me and other American Tower employees until those cases settled.
That white-skinned privilege-abusing heiffer (in my opinion) American Tower VP Jody Mitchell
did
call the police and lie, saying she didn't know me except that I was a "scoundrel" --
but there was no police escort on me at any point in time.
I was employee of the week and had earned a $6K raise, facts that Marty conveniently left out when responding to Mr. Duffy's email. Didja' run that one past your lawyers, Chief? If so, I'll f*cking sue them, too. Do I appear to be
scared
of you haters? Well I'm not. Bring your bullshit on and let the history books tell the story.
Marty is
cracking
under the
pressure
. Anyway, listen to the actual audio of the phone calls
here
and parts of them on the
video page
in the short films with re-enactments at "American Lawyer II and III," noting how others received summary dismissals for speaking up in my defense and against company brutality as well.
So again, here goes Marty publishing a
false, material, factual assertion
to a third party that was made with actual malice with regard to the truth, calculated to cause me damage. When will he (n)ever learn? He's
already
facing Defamation charges for doing the same goddamned thing
exactly
a year ago in a hateful email he sent to the NAACP.
Just
another
attempt by an angry, outwitted and
white
/
person
to criminalize me, make me the "dangerous black man" that Jody Mitchell told American Tower employees I am. How f*cking
dangerous
do I
look?
Any jury, criminal or civil would see right through that; f*ck him up but
GOOD
. Well I've got some people in media interested in doing the same exact thing:
For the rest of his f*cking life, wherever he goes, whatever he does as a public servant, I'm up on his ass like
white-on-rice
. Enriched rice, you know the shitty kind.
PS:
Marty, quit trying to
lock me up
with hateful motions after we catch you holding a file in contravention of
Rule 98
. That's called haterism. Didn't we talk about that at the
meeting
?
PPS1:
One thing they want to hide is NAACP's
malfeasance
with my father's
case
. They can try any and all matter of
ad hominem
remarks about me, and point toward all those
Masonic
orders from Ohio (none of which were complaints by my clients, mind you -- all from establishment power brokers) but they cannot say one thing bad about my father, a 37-year employee of Diamond Shamrock and successors, a Military Industrial Complex behemoth. The NAACP is bought and sold with
military money
, but at least that money put me through
prep
/
school
so I can do what I do today!
Peace
.
PPS2:
Here's a few more lies from Marty's magic email:
"I haven't had any personal contract
[sic]
with Mr. King at all." First of all, The email correspondence between us (resulting in a Defamation charge) I would consider personal contact, but if not that,
surely
the occasion where Dunn appeared at the Nashua NAACP meeting and he and I talked 8 feet from one another -- directly to each other -- and the
intern
Ashley (whom I secured) noted that he said I tried to run a "scam" for seeking redress for Willie Toney,
would
constitute personal contract
[sic].
What a bullshitter