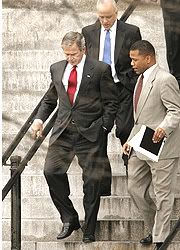 And he's residing right up there with "I tapped your mother"
Dubya'
. He's Domestic Policy Advisor (Bush toady)
Claude Allen
, a nominee to the Fourth Circuit Court of appeals, so he's not unlike a lot of dishonest judges out there -- some of whom have ruled on my cases back in the Day. For irony, read this Daily Kos
post
about how they try to frame me up big time in Jaffrey, while they drop the news about this bastard on a Friday night, the lowest news readership of the week.
PS:
When I was working for Jesse Jackson in 1983-1984 he was working for
Jesse Helms
. Get gone, you
false nigga'
you.