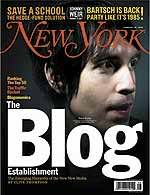 Notice how last month's New York Magazine
story
is called "The Blog Establishment?" Well there is an "establishment" in cyberspace and I'm definitely not part of it: I have been trying for a month now (email scans coming) to get listed with
www.blawg.org
-- the nation's -- if not the World's premier blawg cite. Nice wordplay, eh?
Anyway
, I've received no inclusion and no response via email.
Bill Gratsch
I believe is the owner and he is communications guru over at the
Dykema firm
, a huge one (570) involved in speaking engagements with all the legal systems and people against whom I rail.
Query, does that have anything to do with
www.blawg.org
keeping me from the ring, or not returning my emails? When I had my
BMW 2002tii
(prior to American Tower's shenanigans forcing sale) I remember inclusion into the BMW 2002
webring
was
instant
. Like the throttle response on a
tii
.
You know the blawg.org guys knew about me from the minute I blogrolled them because they track that shit. So what's going on? If it's an oversight, I apologize. But if it isn't they can start watching for a lawsuit: What they offer is tantamount to a public utility, and it would appear to be viewpoint-based discrimination. I mean, this is a blawg, right?
And it contains legal pleadings, legal arguments, courtroom still pics and video captures, and pics of attorneys outside the courtroom, and moreover is linked to a website offering courtroom video no less, right?
I don't know of
any
other blawgs that begin to offer that entire spectrum. Yeah, I'm a bad M-F if you think about it, and I'm everything the establishment hates about the advancement of technology, 'cos I can show a
hater
, 8 years post. Well I say viva technology for the people, dammit.
To be honest, I sincerely hope it is a mistake, and I sincerely hope that he is the same Bill Gratsch who
referred
someone to the Gang of Four (second) reunion tour: I became friends with one of the members of the
first reunion tour
; visited her in London. If so, maybe we can work this out.
NOTE:
I received an apology this morning and tried to post this note earlier, but -- as usual these days -- blogger was busy f*cking up. I told Mr. Gratsch "Peace."
AND ANOTHER:
I still can't find my listing there as of 29 March 12:34 a.m. EST - hopefully it will update by tomorrow.