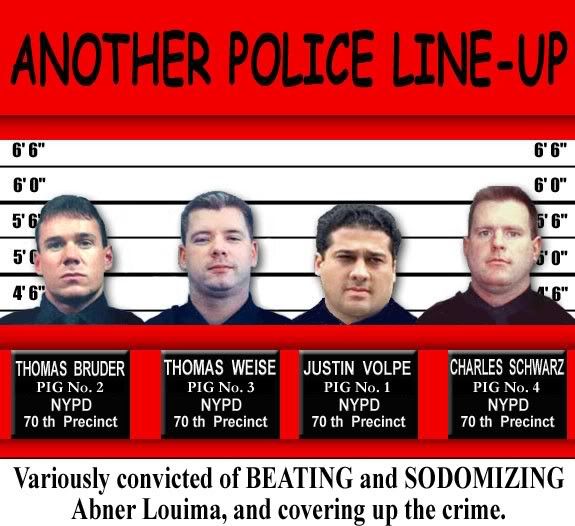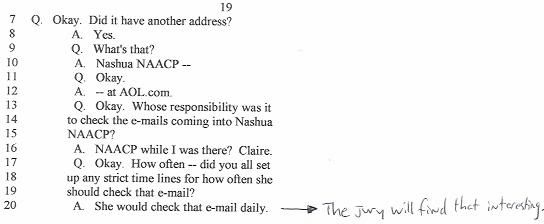 Click to expand this case
summary
for newbies. According to the
sworn testimony
of Nashua NAACP Defendant Gloria Timmons, Nashua Executive Committee member Claire Holston
must
have read this
email
and since I made it clear that Gloria was to read the "
Memorandum
/
Contra
" they all knew about my damn suspension issues, right? Anybody got a picture of Claire so I can add her next to
these cops
who sodomized Abner Louima with a plunger?
Note:
Parody. Claire Holston did not literally sodomize me. It just
feels
that way and probably
looks
that way to a jury. We'll see. I think she should go join
Gloria and Melanie
and really think about how foul this situation really is, and her part in contributing to it.
PS:
Nothing personal. In fact, I volunteered at Election 2004 through Claire and
Citizen's Alliance
. I even helped her out with her
personal
affairs; she had much more seniority in the Nashua NAACP than I. Also, I wish I could ball like
Claire
, and she's a
great coach
. I've got no time for athletics now though, in part because of her (in)actions. I'm just setting the record straight, using Deposition testimony that Orr & Reno
hate
to have online, keeping it open as opposed to the way that WMUR --
controlled
by NAACP's counsel -- conducts their affairs. As a member of the Fourth Estate I'm not down with any of
that
.
You know I met a barbershop owner tonight. I'm going to meet him again, soon. He also knows the folks up at
Shacojazz Cafe
where I do
spoken word
. I like how Barbershops are conduits for creative expression and dissemination of nitty-gritty information. Same with my boys in Nashua at
SMASH
Gallery/Boutique except there's no
Eve
or the
Queen
up in there. Just some hard-workin' honest nigguh's. C'est la vie on that, but Viva the
Barbershop
; Viva technology.