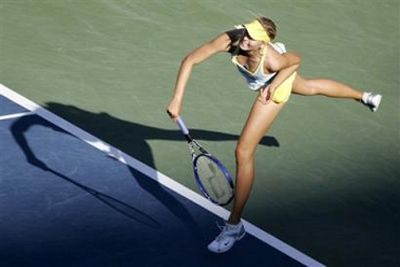 The Pittsburgh part we've covered
already
from the fun times I had there Jammin' out with
Cherylann Hawk
Band and others while working for
Citynet
. The Martina part is equally simple: She just beat odds-on favorite Maria Sharapova 3 & 1 to gain the
finals
of the Pan Pacific Open. She's not a huge power player yet she can dance with the best of them. Except for a wicked
inside-out
2-handed backhand I'm not a big-banger either, so I find it rewarding when I beat up on a court
bully
, tennis or
otherwise
, using brains over brawn. Plus, I think she's an
hootlarious
personality, turning
cartwheels
one day, doing the
Seven-Year Itch
the next, and in some ways as
sexy
, if not
sexier
, than
Maria
. The subject requires further study, no doubt.
PS:
Don't forget to watch the new short film,
Oreo
. Look at Gloria at 1:12 mins. into it when she talks to Defendant Levesque. If that's not evil personified, I don't know what is. Nope, this is not your father's
NAACP
. The transcript is
here
.

PS:
Elena Dementieva won, 2 & 0 (ret). Check out that trophy, willya? It's Beautiful.