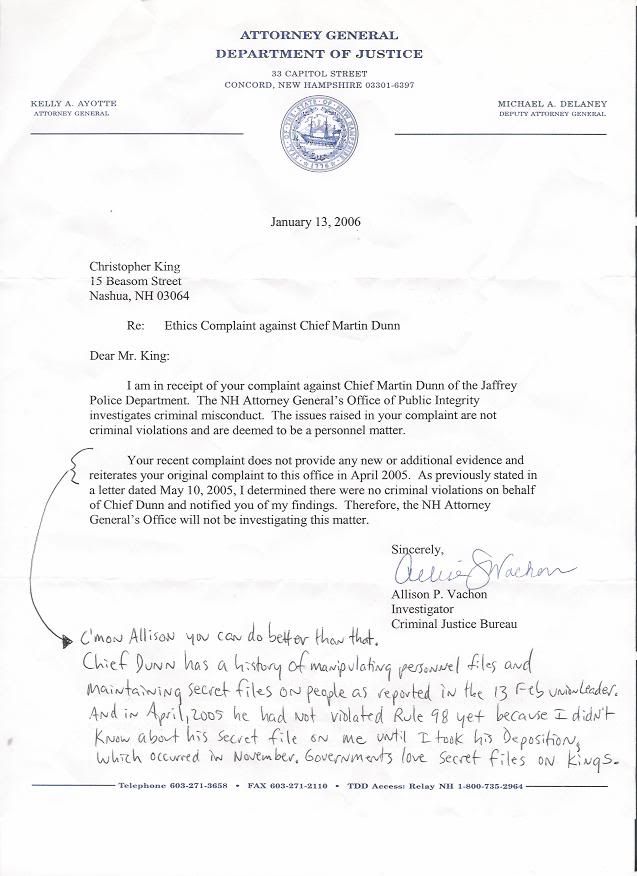 First off
let's look at what the
Union Leader
reports the charges to be against Chief Dunn in his suspension case, most specifically the allegation that he
improperly maintains files on citizens
, which is precisely what I accused him of doing when I said at Deposition halftime that he was
"Violating Rule 98."
In my
opinion
, the only reason Dunn is still employed is because town manager Sistare violated his Due Process rights in suspending him, as
Attorney Volinsky
likely proved.
*He improperly removed a disciplinary document from Officer Michael Prince's personnel file in the summer of 2005.
*He improperly instructed a subordinate officer to change or destroy a report in February 2005.
*Against the town manager's instructions, he revealed confidential information to police union members sometime around May 2004, before the union's contract negotiations.
*He kept non-criminal files on town employees or residents.
*He improperly used press releases to "forward his own police department agenda."
Next,
here is the
backdrop
for the Motion for Fraud Upon the Court, and here is the Court's
reply
. In his Memorandum Contra Bauer said "I meant the Universe of emails from meto him, and says that he his not violating Rule 98 because he is not a criminal prosecutor. But Chief Dunn has a duty to comply with Rule 98 just as Prosecutor Albrecht does, and Charlie Bauer is his counsel. Whatever the case, the Good Chief will have to answer to the Discovery requests posted
here
.
Lastly,
Charlie Bauer is trying to get the Court to throw my Defamation case out against Chief Dunn by claiming that I have to provide a copy of Chief Dunn's Deposition. That's a crock. I have no obligation to provide anything if I am not going to use it. He can't dictate how I run my case. Moreover, discovery doesn't even close for months, yet. Is he saying then, that every deposition taken must be ordered and provided? Everyone knows that's a crock.
He sites no case law whatsoever
, then he claims with no direct assertions whatsoever, that I haven't produced it because it is detrimental to my case. That's a crock, too: The fact that Chief Dunn, facing a Defamation claim for broadcasting the comment "You are obviously a disturbed individual, with fantasies about your prior accomplishments and transgressions" says in his Deposition that my website is
"Despicable"
and that a letter noting how I would get my
ass reamed
in prison is
funny
, and that "We can get you some (mental) help" is
hardly
damaging to my case. Nor is the fact that in his Deposition you can hear me ask him what the hell that secret file on King is at his feet. I just can't afford the Deposition, and you can't throw a case out because of that. Just another establishment white man telling me how to live my life. My Memorandum Contra, including this blawg post, goes out overnight today.
Some people will do
anything
to avoid the truth. Like Chief Dunn and Prosecutor Albrecht -- fortunately Judge Arnold
correctly ruled
that he will indeed review Chief Dunn's personnel file as relevant to the criminal case.
Meanwhile,
look how the Attorney General's office, with whom Chief Dunn has a recent ally -- his good buddy and former Cheshire County Prosecutor Peter Heed was Attorney General until he resigned under a
sex scandal
--
lied
about the reason for dismissing my
ethics complaint
against Chief Dunn this time. Attorney Allison P. Vachon claims that
"[My] recent complaint does not provide any new or additional evidence and reiterates your original complaint to this office in April 2005."
That's a crock, too. Dunn had
not
violated
Rule 98
in April because I had not deposed him yet and seen his little file on me. Nor had he failed to provide exculpatory emails that both of his lawyers had at such time. So I'm sending Attorney Vachon a copy of this blawg for reconsideration as well.
Query:
Is it something about men named
King
and secret files, or what? This is post #420.
New Hampshire is such a clean fun place to go
mountainbiking
and
snowboarding
but frankly
its politics suck
and they will try to imprison or
lynch
a
nigger like me
for making
history
anytime they speak up. Even the NAACP up there will
tell lies
and play games to help them. I'll fight that attempt by any legal means necessary. I can't believe that
this
is the state that votes first.