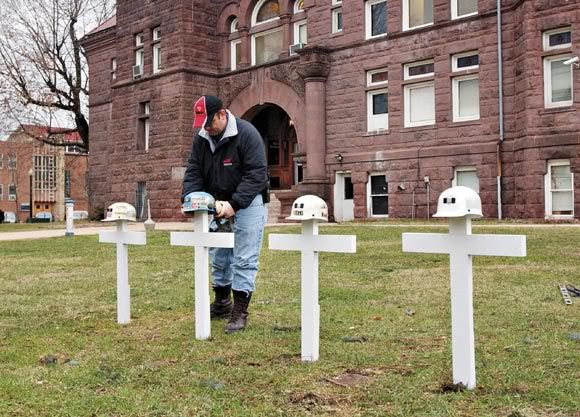 Jamaica
First of all, a moment of silence, please, for the people of Appalachia, working hard and
dying hard
in those coal mines every godd*mn year because of outright corporate greed and malfeasance; working hard to heat the homes of the rich. I got to know several people from Appalachia very well (lived with one fellow Mr. W and dated Ms. C, whose son is a Secret Serviceman) and even though they are definitely white they definitely agree with me that we
all
are just a bunch of
niggers
in the corporate eye.
Every day
I meet people who want to see my feature length movie. Later on in this post (when I sign off from my 2nd job) I will add some quotes with hot links regarding what people have said about me, corporate and police abuse, and this movie project.
*****
Now that I've been to his blog and watched (0 / 0)
some of the video tapes, I have to agree that this is a very interesting blog. It's also funny as hell. And Mr. King, Esq. is great to watch in action. Thanks for posting all this and I wish you luck on your case. But who is the guy that follows you around and videos everything? This really is such a perfect use of the new technology of video, internet, and broadband.
-Daily Kos
.
....
Mr. King, lawyers like you drive other lawyers crazy. You're obsessive; you believe in truth and you aren't going to let the other side get away with anything. I mean this from the bottom of my heart -- I hope I never am forced to litigate against you (the greatest compliment I know).
Your Interrogatory responses (and your motion) is perhaps one of the funniest things I have ever read in my life. Its brilliant; its vicious; it appears also to be correct as a matter of law. While I wouldn't adopt your style -- I'm more blue blood and understated in my approach, what youy no doubt would call boring -- your case actually makes me smile every time I read it.
-
Daily Kos
.
....
Hey, there. Looks like you have your hands full.
Isn't it odd that you go into law school thinking that the system is part of the solution, when in fact it's part of the problem - a big part.
Best of luck to you. Keep up the good fight. And great video clip on the other site!
Lawyer
grswave
comment to this blawg
entry
.
....
I read your article. Awesome work. Keep up the fight, Christopher King.
NH Indy Media
.
.....
"That's the spirit! Keep on keepin' on dude. Winding people up is a skill; you use it particularly well.
And your filmmakers have to be seeing Oscar in their future. Pass the popcorn, no butter, I'm watching my weight!"
Daily Kos
:
.....
"We talk about fighting corrupt cops who spy on citizens and wonder how to fight them. Well, you're doing it and showing us how! Thank you. I recommended your diary and I hope others take the time to read it. Please, if you have the time, include some blockquoted passages from the relevant newspaper articles in the body of your diary."
Daily Kos
.
.....
Thanks for commenting on my blog. I'll keep checking yours. I'm still piecing your story together from your posts and site. Keep up the fight! I admire your courage.
"NAACP Image Awards are nice, but..."
comment
.
.....
You pretty much summed up why I enjoy reading your posts:
What I have provided the World is a pretty-much unadulterated view into the mind and life (well I don't go into my love life here, something must be sacred) of a black guy under a felony extortion charge in one of the whitest states in the Union (in fact the last one to adopt the MLK Holiday), while fighting the country's oldest Civil Rights Organization -- the National Association for the Advancement of Colored People. It's news of the weird, a twilight zone cinema verite and one wild ride.
NH Independent Media
.
.....
Wow, I knew nothing about this. thanks for leaving the links for me. i'm really impressed, you've got some brass cajones dude, more power to you!
"Look who I met today"
comment
.
.....
"I answered your question before i thanked you...
I am a 60 year old white woman who grew up in the segregated south - and hated it!
The inequities are enormous - but it only takes one person at a time to make a difference. look at dr. king. look at gandhi. look at rosa parks. look in the mirror! You understand the truth of the power of one person - and for that, you are truly blessed! the "haters" don't get it and never will. they will never understand the satisfaction of having an 18 year old child of the ghetto come up and throw her arms around your neck and say through the tears "you changed my life!"
These experiences are worth more than all the money in the world, aren't they! you know the truth - it is beyond description if people don't try to find it!
Congrats and carry on! sir!!"
Daily Kos
:
.....
"I thank God for an attorney that won't turn you away 'cos you ain't got no money."
-client
Jerry Doyle
, in First Amendment
Movie Trailer
.
.....
"[King] claims he's been contacted by a "Hollywood producer" who wants to make a feature film about his life story. I don't know about you, but if that movie gets made, I'll definitely see it."
-New Hampshire Union Leader
Editorial
, June 2005
....."I saw a young man vigorously fighting for truth, justice and the so-called American Way."

-client
Michael Isreal
, 1997, who also sings negro spirituals about King, his talents and his spirit on
"background"
video.
.....
"You obviously are a
disturbed
/
individual
. Your fantasies about your past accomplishments and transgressions are remarkable…..This is a man who operates under intimidation and threats."
-Jaffrey Police Chief Martin J. Dunn email from March, 2005 and Union Leader, July 2005
.....
So your point is a far more powerful statement of history than empty boosterism. It is a more convincing argument that any strides we make in protecting civil rights for all are precious, sacred and worth preserving.
Daily Kos
.
.....
"King is a
philosophical orator
."
-Ohio Board of Grievances.
.....
"READ THIS BLOG
: I've been following Christoper King's saga since
before
he was an accused felon. Christopher King was indicted on what seems (to me, anyway) bogus charges. Rather than cowering in a hole, he is roaring like a lion - from his blog.
You should be reading this."
-Mike from
Crime & Federalism
blog.
....."You are an embarrassment to the practice of law...

you stupid motherfucker
."
-"Lando" from
Daily Kos
.
.....
"When I said 'City Council' other attorneys were afraid to go against...go against the City [for fear of unlawful retribution]."
-client
Jerry Doyle
in
"Background"
video.
....."The author of this diary seems like a fighter, I'll say that, and his video had pretty good production values. And if I understand him correctly, he's probably uncovered a corrupt establishment conspiracy -- i.e., the same set of lawyers and politicians work together to deligitimize someone who they view as a threat and/or an annoyance."
-"cthulhu" from
Daily Kos
.
.....
"Your story is really incredible and you are such a self-made success. Keep your chin up and know that there are many people like myself behind you. Take care of yourself and stay strong and focused."
-direct email summer, 2005.
*****The people have spoken:
They want a movie
. I'm going to give them what they want.