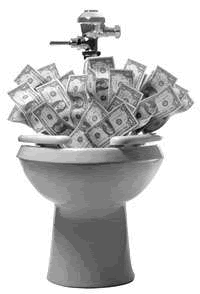 A long time ago Chief Dunn sought to have me pay for the purported investigation into whether Willie Toney's Civil Rights were violated. I'm certain it was a perfunctory investigation, and they determined "no," in
wolf-watching-henhouse
style manner of review. But what is more germane now is just how much money the taxpayers of Jaffrey and Cheshire County have spent on Chief Dunn's attempts to prove that I actually am somehow guilty of attempted extortion, or hid my licensure status from people while
at least
one of his lawyers had been on
actual notice
of such suspension
before
I even wrote the Demand Letter in
December, 2004
.
Do we need
Stevie Wonder
,
Ray Charles
or
Helen Keller
to connect the dots on this one, or what -- not to mention the fact that the underlying statute has been ruled
Unconstitutional
in Arizona -- ironically the second-to-last state to recognize Martin Luther King's birthday as a National Holiday. New Hampshire was
Dead Last
. What's
really
going on in Jaffrey; inquiring minds
want to know
.
Some people need to chill out, put on some
Toots and the Maytals
or something; get some love in their hearts and stop hatin' on people who expose potential police abuse. I danced on stage with Toots in Boston a few years ago, then the next year
Johnny Mac
(seen here with Legendary
Bo Diddly
) played guitar with him on that same stage. Now had I danced with
Toots
and
Mac
rippin' some guitar
that
would have been a hoot.
PS:
If anyone had merely Googled my name at that time in or around November/December of 2004 -- a whole month before the Demand Letter, they would have seen what writer-producer Blankety-Blank saw -- my whole life story, including the suspension issue, thumbnailed in a Craig's List ad that eventually landed me my current primary
film maker
(received by me on 27 Dec. 2004) -- who spoke with Defendant Levesque about
all of it
prior to Big Trouble in Jaffrey. Here's a bit of what Blankety-Blank wrote me:Here's another one in my inbox on 30 Nov. 2004:
I may or may not be of assistance to you and your (interesting) project: My name is [also Blankety-Blank]. I am a XX year-old, Marin County-based businessman, writer, entrepreneur and inventor. I consult with selected people of special projects. Some of my clients are literary/film agents who specialize in documentaries. Another client is a best-selling author with whom I am working on a documentary at the present time (Warner Brothers just bought film rights for his novel, and is scheduled to begin a $150MM project in 2005).
And they claim I was trying to hide
what?