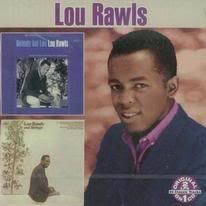 Lou Rawls
. Does anyone have to say more than that? Not really.
This man
, who has helped more (primarily) minority youth to
attend college
than any other single person, and who has
worked with
everybody from
Nick Cage
, to
Elisabeth Shue
(what a babe, smart, sexy brown-eyed, full-lipped and
all
that), to
Sam Cooke
to
Beck
, to
Devo
(Rugrats
musicians
are the Mothersbaugh brothers, to whom we usedta' skateboard at Rainbow skatepark in their hometown of Akron as a yoot) has slipped from our physical midst. But never from the spiritual.
PS:
For my detractors on a certain other board:
Beck
and
Devo
were laughed at, too, but they both stood firm and were way ahead of their time. Now they jam out together; get that respect they deserve.
Duty Now
for the Future!