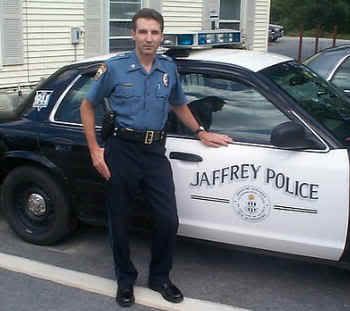 "....residents [are] concerned and distrustful of the Chief of Police, Police Department, and of town officials." See
Bad Cop News,
which reports further:
"Another resident says he had heard a number of rumors, presumably from outside of Jaffrey, of wrong-doing by Chief Dunn prior to his employment in Jaffrey, that "[Dunn] just wasn't someone anyone wanted around anymore, they couldn't have him around anymore."
Another town resident said that if she needed police assistance,
"...yes, I'd think before calling [The Jaffrey Police Department], becasue, you know, about this mess, the secrets, who do you trust, I don't know who to trust anymore, not the police, not the town, it's never been like that [In Jaffrey], shouldn't be. We shouldn't be afraid of the city, the police, never.""Requests for copies of a "media press release" issued by the town of Jaffrey have met with resistance. Jaffrey officials have agreed to fax documents to several individuals, have been provided with a fax number, but have sent nothing.

While it appears that the public press release was given to selected news media, also not wanting to provide copies, the town is picking and choosing, restricting who actually receives copies of the document."King notes:
"These are the same
media
who are respresented by counsel for the NAACP and who have continually
abused
the
privilege
and responsibilities of the Fourth Estate.... which is ironic because one of my criminal defense attorneys has successfully gained
access to the court
for them on recent occasion."
And says further:
I got
the drop
on all of you
haters
who won't even debate me in a
public forum
.
And takes his parting shot:
"NAACP is still on the
wrong side
. I will be vindicated."
No Justice, No Peace.