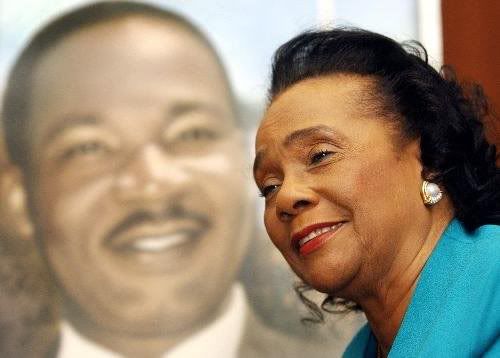 We will miss you as we continue to discover that true racial, ethnic and socio-economic
progress
in this country may still occur if we each individually strive for it in our
daily affairs
.
People for the American Way
note that
"It only adds to the tragedy that Mrs. King's death—and that of Rosa Parks just a few months ago—comes as so many of our nation's leaders are turning their backs on the principles to which King and Parks dedicated their lives."
Today we've got people like Boston NAACP President
Lenny Alkins
tossing emails about important Civil Rights matters, and Nashua NAACP President
Gloria Timmons
lying about me and getting in bed with a police force and government that are
untrusted
even by the predominately white people they "serve." Coretta Scott-King would agree that this is definitely to the detriment of social progress, as Rosa Parks and my Great-Great Aunt Mother Ann discussed in this
post
.
I am
100%
certain that Civil Rights leaders like Columbus, Ohio's Bill Moss and Loretta Heard would
agree with me
.
Meanwhile,
more news
hot off the presses
from one of my Jaffrey/Cheshire sources:
Watch the
movies
; I've got a new one, "Oreo," coming soon.
We must remain vigilant, even if it drives us
crazy
at times. So crazy, all I can see is red: