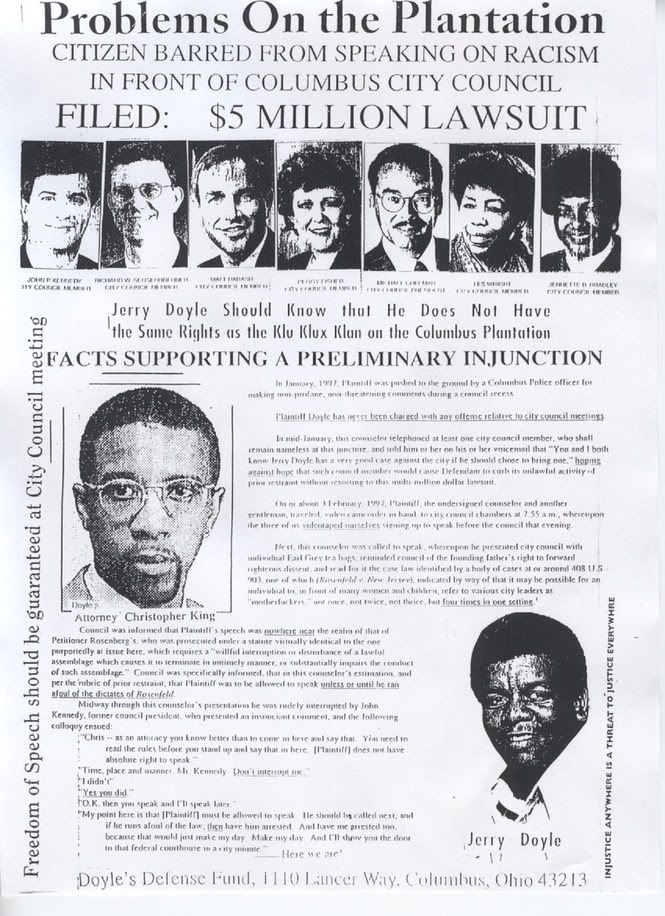 Columbus Black Historian and videographer James Whitaker (OSU Black Studies '75) comments on time spent on his own volition documenting King and his clients in the mid-to-late 1990's:
Recommended reading:
Doyle v. City Hall
&
Doyle v. Columbus School Board
&
13 Oct. '05
blawg entry "
Back in the Day
." Also try
"King is Ethical."
Recommended viewing:
"Background" and "A Day in Nashua," both
here
.
The truth is I got reamed because I represented some unpopular clients -- the kind of people the First Amendment is supposed to protect. Regarding funding for the KKK protection, Jerry Doyle asked City Council how they would like to be called a "bunch of niggers," similar to how Mr. Rosenfeld in a Supreme Court case called council "M-Fuckers" 4 times. The city council meeting continued and finished regularly. Rosenfeld's speech was held lawful but Columbus City council barred Doyle for
11 months
until I sued. You can see him in the "background" video say that "other lawyers were afraid to go against the city -- city council" for
fear
of having their career sidetracked, derailed.
Here is one of taxpayer and citizen Jerry L. Doyle's
newsletters
with the text of my Motion for Preliminary Injunction -- which of course was denied, but majestically they let that nigger speak the next time he came to the podium -- after an
11 month
refusal -- so I still call it a victory. Judge Smith, former city prosecutor, held that Council could restrict Doyle from speaking about the same topics in the off-agenda session, although obviously they stopped actually doing that. That ruling should send shivers down (and up) the spine of anyone concerned about the First Amendment. See
Rosenfeld v. NJ
,
408 U.S. 901
(1971).
Here's
another one
with a bunch of cops threatening to arrest us. I might have shot that photo but can't find it. It might also be in the Columbus Dispatch. I was right next to their photographer. Who knew in 1997 that we would be able to share this with thousands.... millions of people?
Viva technology: We've got more coming.
Repeat:
"penny press meets blawgosphere!"
-
Your humble narrator
.
PS:
Doyle's testimony in the 2004 Columbus voting irregularities.