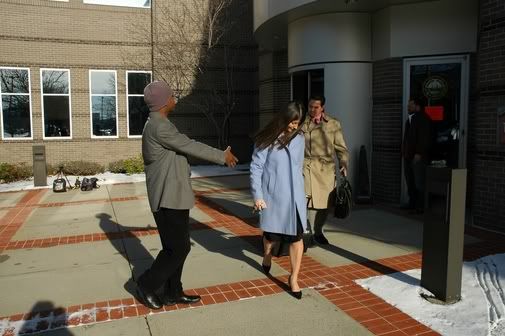 First of all,
it's a diary, and it contains entries showing my state of mind
prior to
indictment. See generally
Marcotte v. Timberlane/Hampstead School Dist
.,
143 NH 331
, 733 A.2d 394, 1999. Ummm.... with Devine-Millimet (NAACP's first lawyers
who bailed
) on lead and who but coincidentally -- or perhaps not --
Orr & Reno
on amicus for Defendants,
dammit
. I told them I would use all of their cases against them, so here we go!
You thankin' with me you thankin'
with the best
!
Second,
Attorney Bauer
wants the Court
to read it.
Third,
blogs have been found admissible as seen
here
, as discussed
here
on the
Volokh Conspiracy
blog.
I contend it is admissible for these reasons:
1. State of mind prior to indictment;
2. To show the impact Defendants' actions have had on me over the past several months;
3. To counter allegations of unprofessional conduct by showing examples of their hypocritical nature, and to show them as unprofessional as well;
4. To show that I have continually been an open book about any and all salient aspects of these cases.
5. To show what they are retaliating against me for, including Timmons' stalking case and the attempt to revoke my bail using items that weren't even sent to my correct address (
scroll down
).
"Bring whatever it is you've got,"
invites King to opposing counsel. "Because I'm going to open up my entire professional world, and my observations about the NAACP and the
Defendants
in this case for the criminal and civil juries, and I'm going to specifically ask that the court grant the jury supervised access to this blawg. Moroever, to the extent that they try to portray me as mean, discourteous or in any other way unprofessional, there are plenty of examples that can even been seen on video or in stills where we can see the truth
here
and
here
."