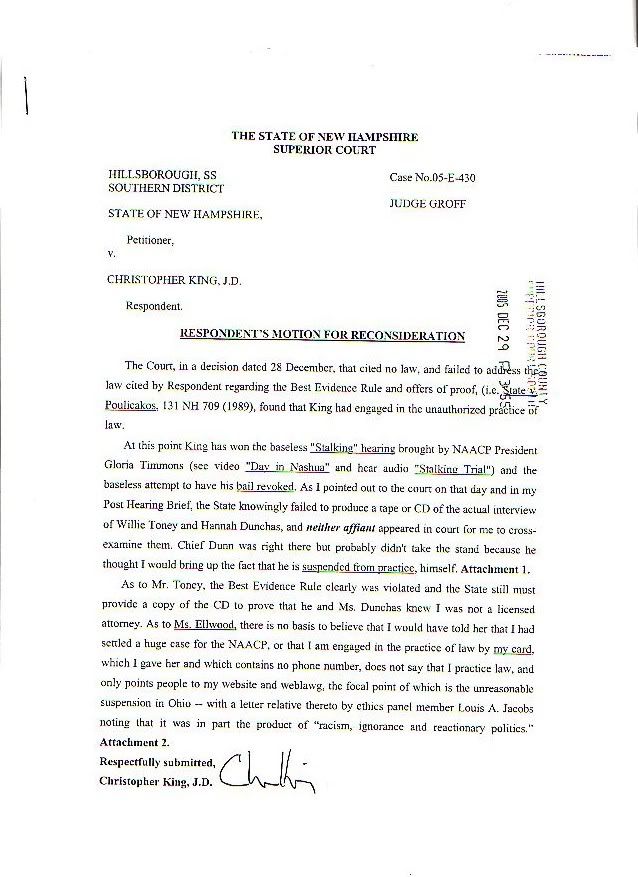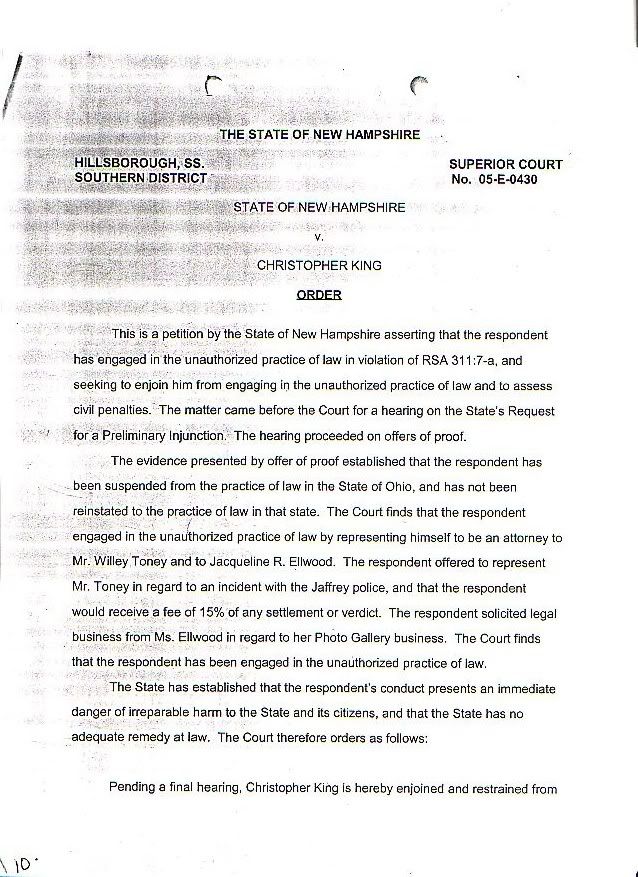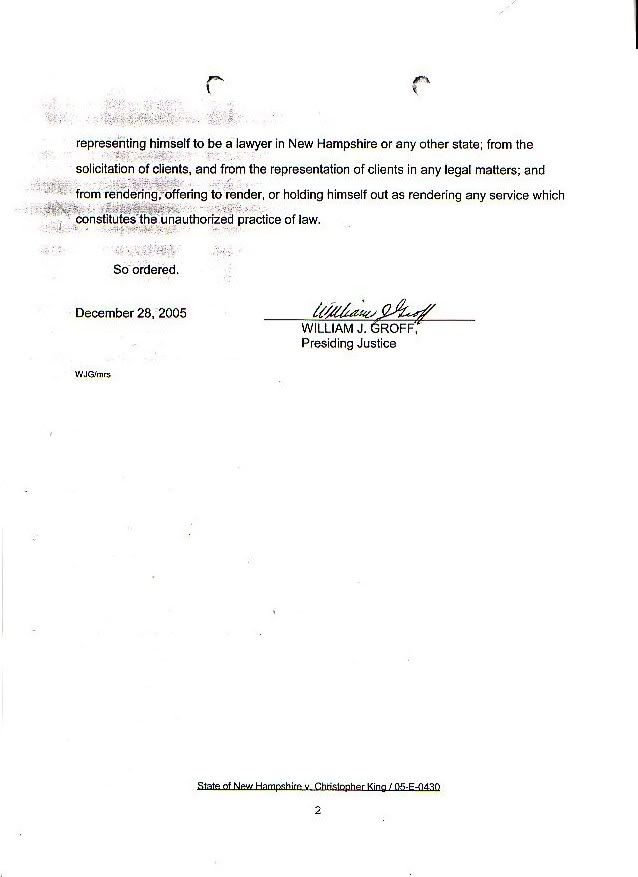 The Court, in a decision dated 28 December, that cited no law, and failed to address the law cited by King regarding the Best Evidence Rule and offers of proof, (i.e.
State v. Poulicakos
, 131 NH 709 (1989), found that King had engaged in the unauthorized practice of law.
At this point King has won the baseless
"Stalking" hearing
brought by NAACP President Gloria Timmons (see video
"Day in Nashua"
and hear audio
"Stalking Trial"
and the baseless attempt to have his
bail revoked
, but this loss he finds astonishing.
"This is remarkable and will be appealed," said King. "As I pointed out to the court on that day and in my Post Hearing Brief, the State knowingly failed to produce a tape or CD of the actual interview of Willie Toney and Hannah Dunchas, and
neither affiant
appeared in court for me to cross-examine them. Chief Dunn was right there but probably didn't take the stand because he thought I would bring up the fact that he is
suspended from practice
, himself. The State put on a Dog'n'Pony show, no doubt."
"As to Mr. Toney, the Best Evidence Rule clearly was violated and I will provide a copy of the CD to prove that he and Ms. Dunchas knew I was not a licensed attorney. As to
Ms. Ellwood,
there is no basis to believe that I would have told her that I had settled a huge case for the NAACP, or that I am engaged in the practice of law by
my card
, which I gave her and which contains no phone number, does not say that I practice law, and only points people to my website and weblawg, the focal point of which is the unreasonable suspension in Ohio -- with a letter relative thereto by ethics panel member Louis A. Jacobs noting that it was in part the product of
'racism, ignorance and reactionary politics.'
This is a Dark Day for Justice."
King adds further
"The fellow from a law firm who gave me Willie Toney's name on a matchbook warned me this morning when I told him a Decision was pending 'You're in
New Hampshire
, King.'"
"Courts lie,"
he added. "The Ohio Court went so far as to say that I had said my relationship with Attorney Jacobs had failed. Clearly that's bullshit. We had lunch all the time, we have mutual friends and look at his letter about me. Jesus, Christ."