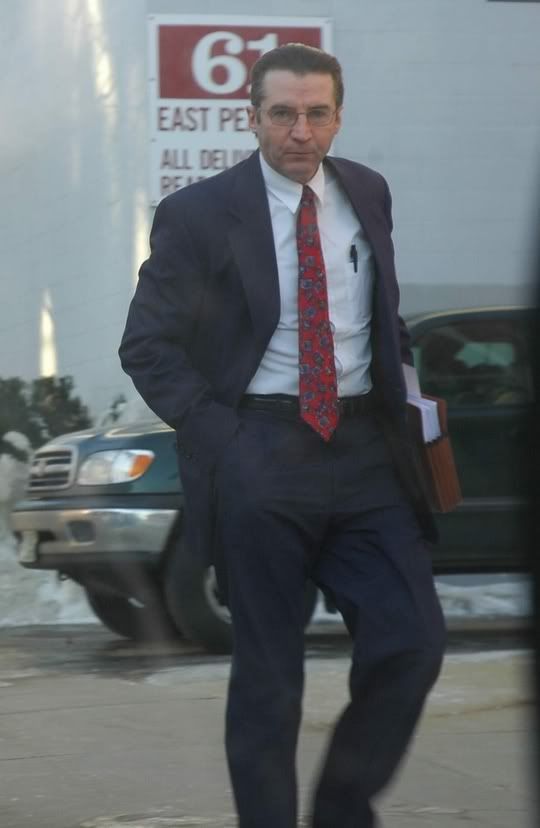 Yes he sure did.
At the Unauthorized Practice of Law Prelim. Injunction hearing he popped off a couple rounds this morning from his lil' mobile camera phone (see him getting ready
right here
) while we
stood ground
and returned fire with the full digital clip of a
Nikon
/
D70
. Then we went in to Judge Groff's courtroom,
Rule 78
Motion prepared, and His Honor basically stated 'man, you don't need no stinking motion,' -- just stay in one place and no flash. He asked me why I even tendered a Motion, and I said "well Your Honor, we've been
denied
on prior occasion in a couple of courts."
Note:
Watch
"A Day in Nashua."
Then I tendered my
Supplemental
Motion to Dismiss
and to Strike
, my
Initial Proposed Exhibit Lists
(
1
) & (
2
) & (
3
) and my
Proposed Stipulations and Facts/Conclusions of Law
(
1
) & (
2
) to State's Attorney Stratton; made my arguments that I have never filed in court, never appeared in court, never signed "Esq." to Chief Dunn, always said "we" as an entity may sue, and noted that except for
Jacqueline Ellwood
(who was absent) they have
absolutely nothing
in their Petition against me that would warrant a finding of a Preliminary Injunction.
They are just trying to get that to taint me and I'm not buying into
that
timeshare. Now that I've been misdirected into this nonsense I'll need to return to Discovery Responses before they file another Motion to throw my Civil Case out. Jeezlouise. First
Gloria
tries to get me for stalking;
it fails
, then Dunn tries to get my bail revoked;
that fails
(see also
"Lawyerman"
movie) and now this
beat-down
.
Later
Marty
, who was parked right in front of us, scurried past without even so much as a return to my "take care, Marty." How rude, just like
Attorney Proulx
refusing to shake my hand. See how they
really
operate? Pics
later
.
PS:
This is
particularly disturbing
because the Court just ruled on 15 Dec. 2005 that litigants in the Civil case be "dignified and courteous." Scans coming soon. But Chief Dunn walked past me and my
trusty old SAAB
(240K & counting) so close to my personal space I could touch him, yet he just stared at me rather than show courtesy. He prolly was upset and figured that the State had just lost its Motion for Injunctive relief on the UPL claim. Frankly, I think they
should
lose it for all the reasons previously stated; I will respectfully await the Decision of the Court.
But what do I know? I just a damn
'coconut head racist,'
right?