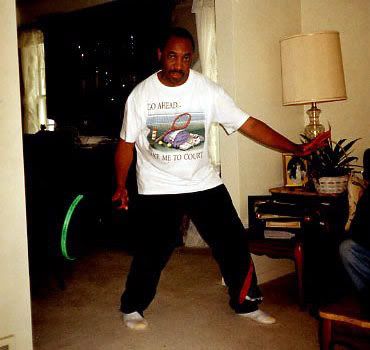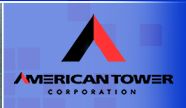 Two Black men with tennis rackets I love.
Arthur Ashe
, '78? RIP and my
Dad
, whom the NAACP referral attorneys (and Bush toady and recess Labor appointee
Peter Kirsanow
)
totally screwed
, circa 1992. "Take me to court," he says. Well that's what I say to ATC because their (mis)representations to Chief Dunn -- apparently issued just off just several phone calls and
without any subpoena
(to hell with the "confidentiality" of my settlement agreement with ACT then, right?) -- led him to believe he could use ATC's comments about me as other acts or character evidence in the bogus extortion case pending in Cheshire County.
Read this letter to one of their attorneys from 13 August 2005:
(1)
&
(2)
&
(3)
.
My recollection of the Depo. testimony is that when I queried Chief Dunn, on what he knew of my "accomplishments" as of 8 March about which I have
"fantasies,"
&
(2)
he testified all about my alleged transgressions against a Caucasian female manager (superior in post to me) that never even came up until
well after
I was fired for demanding overtime pay and "threatening" to expose ATC to regulatory agencies -- I'll retrieve a copy of overtime email to management and the letter I wrote to Chairman Steve Dodge later today. Problem is, I recall him saying that they didn't inform him of her managerial status or the
post hoc
nature of the charges
or
about any
spoliated email issues
in which I issued a sworn affidavit that she wrote me sexually-explicit emails at work; requested that they maintain the emails and then they didn't -- and somehow avoided sanction despite the Court's
ORDER
that they were to provide these emails. It's all in the file, Mass Dist. 03-CV-10904,
Scott A.Lathrop, Esq
. as my counsel of record. And listen to the audio below from when they called the Woburn Police because of my "threats," -- ironically -- of exposure of a different sort. Corporate exposure, folks. What a bunch of
scumbags
. It's actionable and I will sue ATC and subpoena them in the criminal case.
Lead pipe cinch
.
Doesn't this militate in favor of full disclosure of the Depos so that the public can get the accurate picture of things? After all, they started this with a rather public display that is
still viewable on WMUR
-- the communications behemoth that is represented by NAACP's attorneys
Orr & Reno
, BTW. Honk once if you think the transcripts should be available online, or twice if you don't, for some reason. Orr & Reno and Chief Dunn please
don't vote more than once
.
Ironic the
very first blog"Why a First Amendment Blog?"
on 18 June 2005 relates to my Dad -- seen above in 1992 swinging a tennis racket in our living room, challenging me to a friendly (well, sort of) match.
Now,
however, because of their
nefarious
ways, I've got
Tony Montana
figuratively shooting the guts out of American Tower.
Dad
learned to play this game of privilege in the late '70's when he was almost my age now.
Tennis:
It's a lifetime sport.
PS:
As to my very first blawg: I was right about sneak & peek/Patriot Act: They repealed that crap. Look here in the 16 June 2005
Christian Science Monitor
.