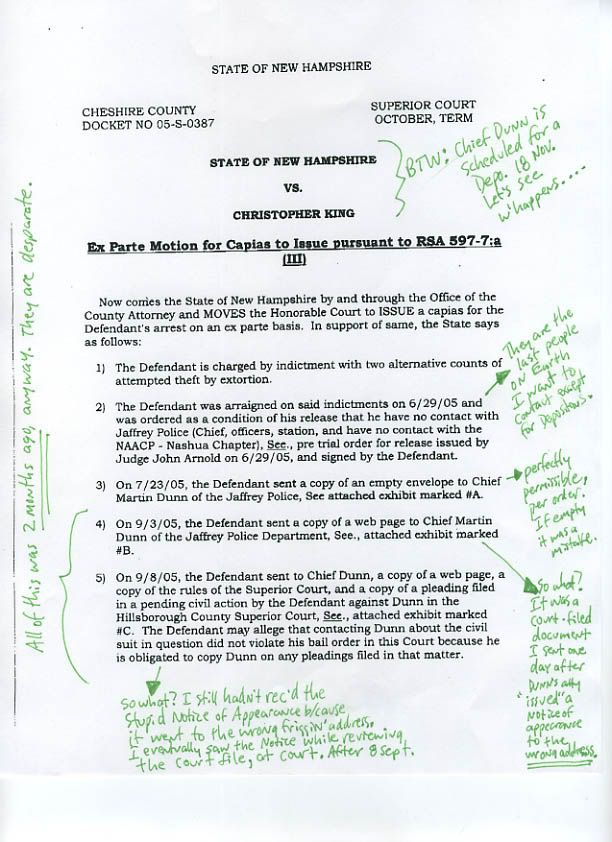 Check out the ridiculous nature of their claims for trying to get my bail revoked and get me locked up for a day.
(NOTE from 23 Dec: It failed).
This one needs no commentary other than what is written in the margins, folks. Wow. It may not need a commentary, but it begs a question, when considered with
this bullshit letter
that Timmons filed in the bail recovation hearing:
Who the Hell
is
paying your attorney fees, Gloria? Sooner or later we will find out, with Court ORDER if necessary, baby. I've got all bets on Jaffrey and Cheshire County, but then I'm not a gambling Man.
What I can say to a certainty is this: Their actions appear to be
morally aberrant
to a whole lot of people, and just plain stupid to most of the rest.
Here's their Motion:
1
,
2
,
3
, and Attachments
4
, a Notice of Appearance not even sent to the right crib, and
5
(the Court-filed Motion I sent to Dunn because I obviously didn't have Bauer's Notice of Appearance yet.) Wow.