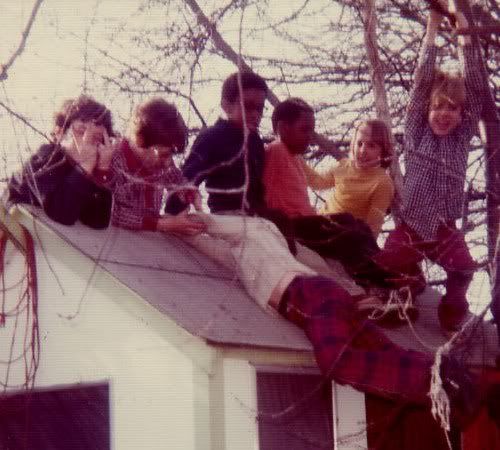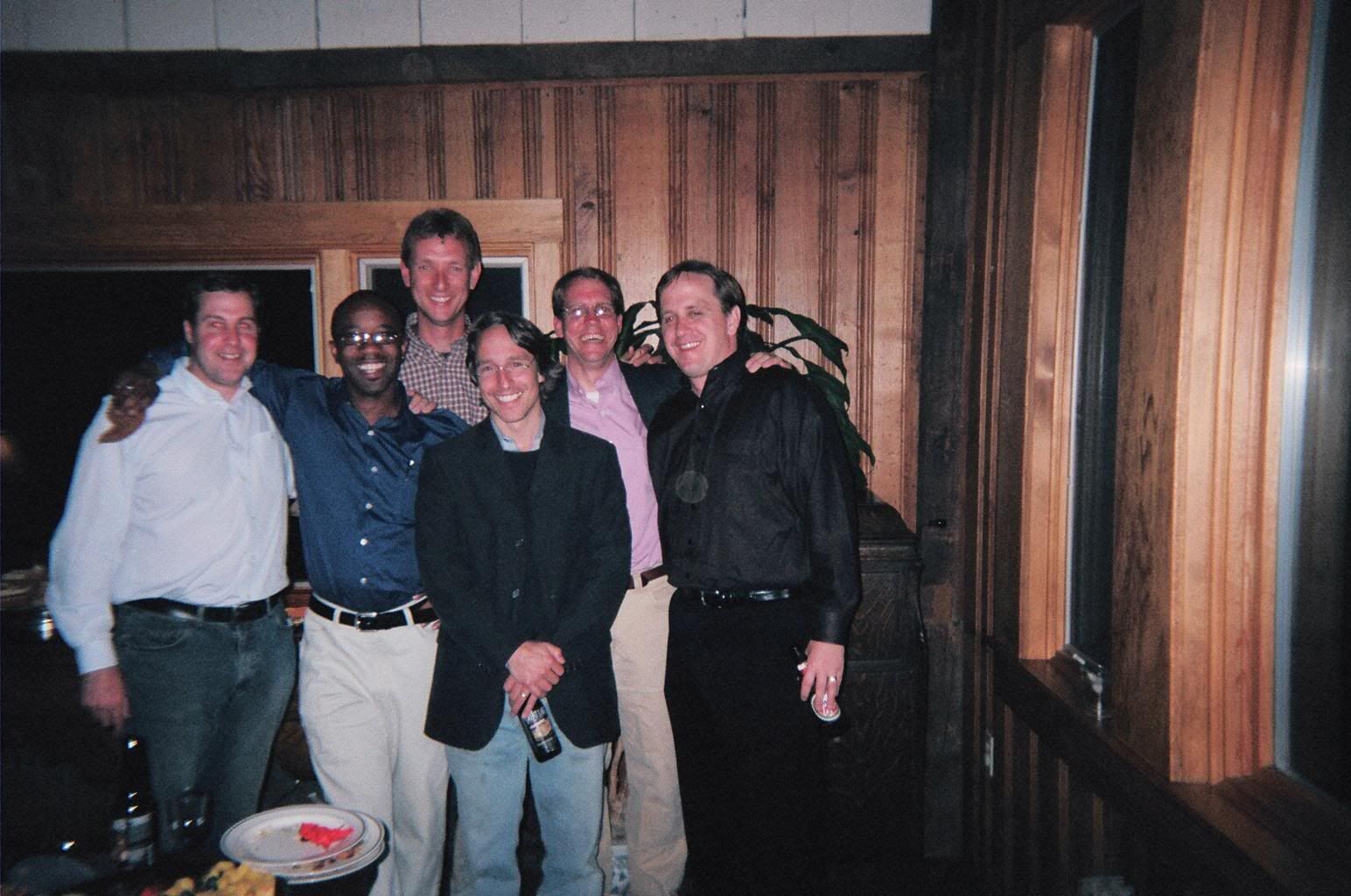 Scenes from my backyard, circa 1973, like
Michael Apted's
series.
'D'
Denotes state debate qualifier:
D-
Matt Berlin
. NYC theater activities & Union Organizer last I heard. Was Joshua Breslau's partner. Brother
Alec Berlin
is one bad-assed guitarist whom I will be seeing soon in NYC.
Randy 'I'll save his ass' Markowitz
. Real estate activities in Cleveland. Was my skateboard homie.
D-
Joshua 'on his ass' Breslau
. That's
Doctor
Breslau to you: Post Doc at
Harvard
, our parents knew each other when my father was an orderly at
University Hospital
when my father used to play table tennis with
Roger Penske
when he was still
racing
, and watch the rich people play tennis in
Little Italy
-- right down the street from
CWRU
School of Law; his daughter's pipe cleaner heart she made for me in fall, 2002 during the ATC fiasco adorns every car I drive. Hosted my first film at Cambridge Public Access:
"American Lawyer: Christopher King is a Dangerous Black Man,"
the title using former ATC Defendant's words about me to ATC staff immediately after they fired me and got a bogus TRO -- just as
Gloria Timmons
tried to do but ultimately failed.
D-
Christopher "That's a long way down" King
. First Amendment Pioneer and Civil Rights Activist. Your
Humble Narrator
.
Bobby Wirt
: Had 2
Honda minitrails
in 3rd grade. We really wanted the
Minitrail 70
though! I was scared though because it had too much power for a 4th grader! So my motorcycles are all Bobby's fault
:)
Med Tech/sales, Cleveland.
Doug Healy
: Seen in 20-year reunion pic with a chilly beer.
Matt Young
: Private school administrator, Greater Cleveland area. Seen next to Healy, and to my immediate left, again. This was not staged. Young's father was Hawken School
Headmaster
, '72-'76 IIRC.
Missing:
D-
Daniel Sogg
. My debate partner.
Writer for Wine Spectator
. His father is an eye/ear/throat doctor who helped with the medicals on
Michael Isreal's case
. Michael Isreal is the fellow singing negro spirituals (rather well, I might add) in the
"Background"
video at
KingCast.net
after I whupped the two (2) Columbus City prosecutors in Jerry Doyle's First Amendment defense for
trespassing
.
I love you guys; and I love you
Mom and Dad
for foregoing that Big House in Shaker Heights so I could get my education on with these Brothers. Thanks for the memories
:)PS:
Chief Dunn
: You should have known all of this pursuant to your fact-checking, so you should know damn well that my recollection of my life is in no ways driven by "fantasy," just as you know damn well my website is hardly "despicable." Your actions in hunting me down, maligning me and trying to paint me as an extortionist, in collusion with those losers of the Greater Nashua NAACP on the other hand,
are
despicable
so I note them right here for the entire World to see. You had your shot on WMUR that is
still hosted there
, with them being represented by
NAACP lawyers
for whom your city is probably paying (but you won't tell me at your depositions) so I'm gonna have mine, now, you bet. Being a law and order kinda guy I'm sure you can appreciate the value of the First Amendment, Sir.
NOTE FROM 1 JAN '06:
I'm sure he appreciates the First Amendment a bit more now that his ass is
suspended
; he's going to want to speak about it at some point, right? See "
Karma
."
And for Prosecutor Albrecht
: Next time
you
read a blawg entry into the Court record, read the whole thing. Why don't you start with this one?
I wish I could say I took this picture in 2001 just for you:
Peace
.
Non sequitur:
I gotta party with these guys! There are cool
minitrail videos
at this site, and look at Michael Jackson
you never before imagined
, I promise that.