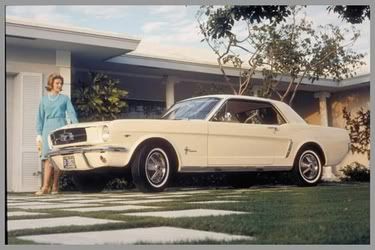 The
Porsche 911
debuted. The
Ford Mustang
. The BMW Neue Klasse racer, the
1800Ti/SA
. The
Buick Riviera
. Oh,
and me
. Being a bit of a
Maverick
myself, I remain a major fan of all of these cars, especially the
911
and
Mustang
, because of their longevity and general sense of integrity and purpose. They stand the test of time; stood true, just as I have and will.
And for the most part, when you hit the gas you know these cars had some sack to them. Cajones. Feminine: Eggs.
Something
under the hood, for crissakes. Contrast the NAACP, soldiering on more like a
Pinto
, with relatively poor performance, an imploded, rusted piece of shit in need of a crusher -- or a good, swift
kick in the ass
.
Ciao
.
PS:
Speaking of Mustangs, on highways, many a
5.0
owner got a shock on cool days when the hot-rodded
sleeper SPG
pulled up to play :)