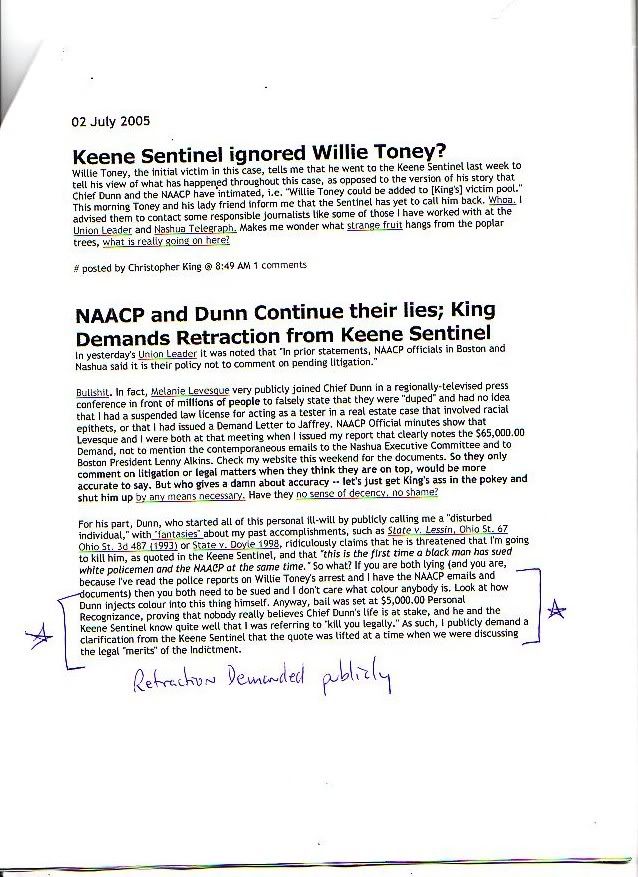 NAACP Prez Timmons couldn't have cared less that Willie Toney faced three (3) drawn guns and was body cavity searched for taking a piss,
noted here
. And she couldn't have cared less about my rights, either, as she threatened to
"run me over,"
noted here
.
See, in
my first non-profit
in
Case Western Reserve Law School
back in 1992 we talked about how a Black Man in the 60's was what a Black Woman most wanted to see at the end of a dark alley. Now he is the last person she wants to see at the end of that alley.
But he is the first person
some NAACP Black Women will throw under the bus in order to accomplish their own agendas, even filing spurious requests for Temporary Restraining Orders to silence a Strong Black Man, and then no-showing at the hearing,
as seen here
. (I mean, what, did she
forget
that she thought I was gonna' kill her?)... They will lie about what he presents at NAACP meetings because they don't know that he back-doored his emails to his private address
as seen here
and
here
. They will threaten him with harassment charges when he tries to expose the truth without resorting to litigation
as seen here
. And they will lie about people like me who act under their direction to help their own family members in other jurisdictions
as seen here
. They will do precious little when active slavery of Jamaican/Black men is detected in New Hampshire
as seen here
. And they will peddle crack cocaine for votes in Ohio,
as seen here
. And they will unethically attempt to influence peddle people like
Senator Teddy Kennedy
and have to step down from office
as seen here
.
That's
precisely
why Black Man Willie Toney (and his Caucasian lady friend) told me
"That Gloria..... She's No Good."
(28 Sept)....
I might add that
Prosecutor Albrecht
and counsel for Chief Dunn,
Charlie Bauer
, failed to produce this document pursuant to Discovery in the Criminal case, even though I clearly sent it to
both of them
, and it is clearly exculpatory evidence and goes to Conspiracy and will be used to examine Mr. Toney with on the stand. And Charlie Bauer believes it is somehow ridiculous or that I have
"ulterior motives"
in requesting he step down as counsel from the Civil case even though I will call him as a witness and take his deposition? Please.
Peace
. (Cammy, a/k/a "Doodle" my Niece and Goddaughter). You can try to lock me up, and otherwise emasculate me, but I'll just send her into battle to take my place. She wants to be a lawyer
"just like Uncle Chris so we can do what we wanna do."
As I said before,
Chief Dunn
,
you and your Thought Police
may want to
nip her in the bud
.