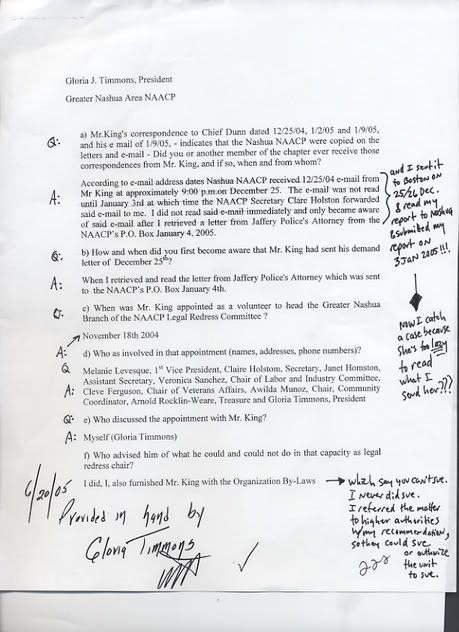 You want more beef? Well I'm slingin' it like
Sean Michaels
:
Here, note how Gloria
admits
that I emailed a copy of the Demand Letter on 25 December, 2004 -- the same day/date/time I wrote it and sent it to Chief Dunn and then a day later to Boston President Lenny Alkins. And we all know that I presented the Demand Letter at the next Executive Committee Meeting on 3 January, 2005 as witnessed by the
NAACP Official Minutes
and my
Legal Report
that was
"Accepted as submitted."
So how is it
President Gloria
and
Veep Levesque
claim they never knew what I was doing?
Melanie was sitting right next to me, as the Minutes show. And I can't help it if President Timmons didn't show up to the meeting, and
failed to read her own friggin' emails, right?
But here's the kicker: She and Chief Dunn conspired to cook this case up just two days after I opened this blogspot with
18 June, 2005 entries
on the Patriot Act (which it turns out I was right about 'cos it was repealed in part), but more importantly, the piece
"Why the NAACP is a sellout organization,"
critical of the NAACP and Jaffrey Police.
As such she is no better than deposed National Legal Director
Elaine R. Jones
, wrecking what was left of the good name of the NAACP, while trying to put a black man down in the process.
Gloria, as I told you:
You don't have to worry about me being violent and all those bogus Restraining Orders you file and don't show up for -- you would do well to be a bit more concerned about your spirituality and afterlife, Kid.
So sad
.