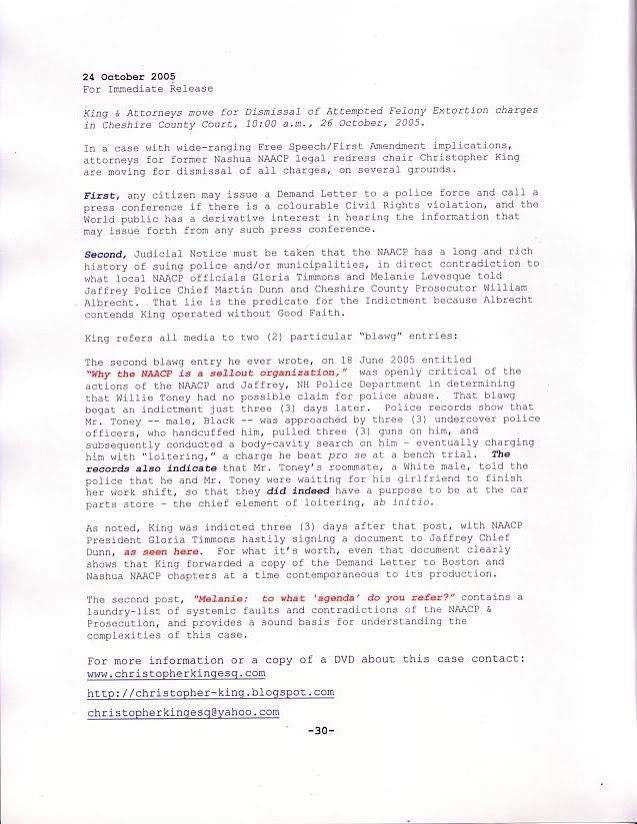 Well sports fans, here is where it all comes down: The hot links for today's Press release that appear in red are as follows:
"Why the NAACP is a sellout organization,"
and
"as seen here"
and
"Melanie: to what 'agenda' do you refer?"
Lastly, it is patently clear that at least one other jurisdiction has ruled that an identical statute to the Extortion Statute under which I labor is
Unconstitutional on its face
. See
State v. Weinstein
, 898 P.2d 513 (1995).
Stay tuned.
PS:
Cheshire Court just sent notice that this was a scheduling error. Our Final Pretrial is now 28 November, so I get to dance on a string at least a while longer. That's the game of mental torture that
Gloria Timmons
and the NAACP set out to throw me under because they ran scared of people like
Chief Dunn
. That's All Right,
Gloria
. See you Monday at your Deposition. I've got most of my questions mapped out and you and me are gonna have a lot of fun, you know, reminiscing old times and stuff, right?"