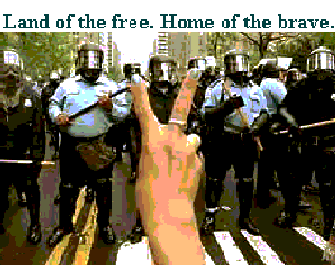 Same story
, but
different facts
. This guy got popped with a Criminal Defamation Indictment facing one (1) year in prison because his picket sign proclaimed a police officer to be a "liar" and a "dirty cop."
Interesting. My rhetoric was quite professional in the NAACP Demand Letter, never wrote or said anything rude like that, yet and still
my black ass
faces not one (1) but seven (7) years in the pokey for that. Here's a copy of the Demand Letter at
(1)
&
(2)
.
Which case is more heinous? I won't judge that, but I will say that both of these cases will be documented thoroughly on at least my website and weblawg. I have indelibly etched this case into the annals of American Jurisprudence with just a few thousand key strokes and a disciplined work ethic. And I am in contact with the attorneys on the New Mexico Case, which is ironic because just due east to New Mexico, in Arizona, that state declared a statute identical to the New Hampshire Statute under which I am Indicted to be flat out Unconstitutional, as noted in
State v. Weinstein
, 898 P.2d 513 (1995).
Haters hate that. And they long to crush me because of it. But mark my words, this is the wave of the future, baby.