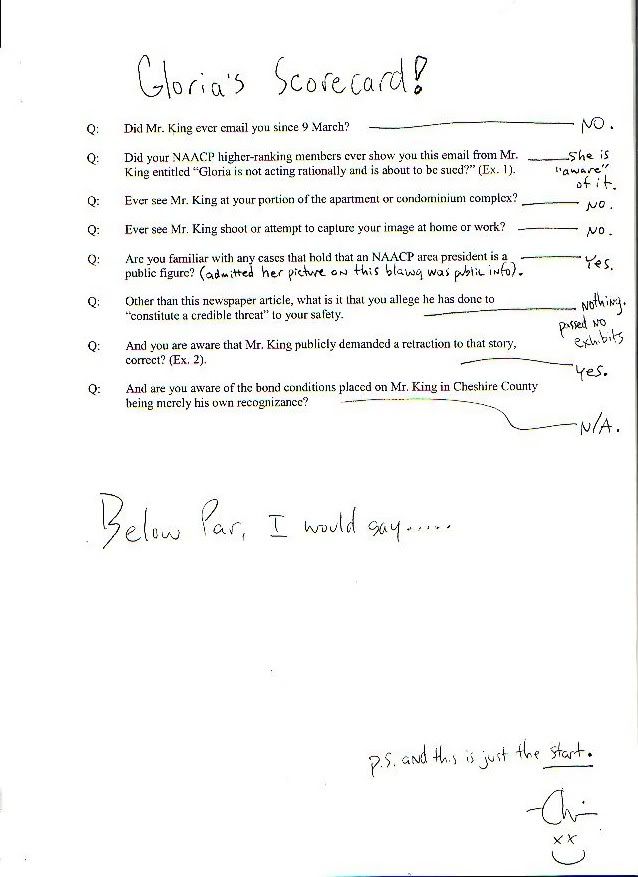 Well sports fans, here's the D_L:
(1)
Courtroom video was denied in the bogus "Stalking"
ex parte
Restraining Order case in Nashua District Court brought by
Nashua NAACP Pres. Gloria Timmons
,
but we have the audio CD on order
.
This is a copy of my objections
. We had requested to forward a video to
Police Abuse.org
, an Internationally-recognized media watchdog. However, the audio presentation, to be posted on this blawg, is damaging enough, we guess:
Timmons
is so
singularly inarticulate
as to be, well, unbelievable, so I quote under my cross-examination because Timmons was upset that I published on my blawg that my lawyers would "roast you and Melanie Levesque up like
rotisserie hogs
at trial." Here then is the
colloquy
that ensued:
Q: Do you know what a
metaphor
is?
A: No.
Q: A
simile
?
A: No.
Q: Ever heard of
Falwell v. Hustler Magazine, 485 U.S. 46 (1988)
?
A: No.
Q: Do you know what a
parody
is?
A: No
Q: Then how can you know what the hell extortion is?
A: No response.
Actually
this last question never was posed, but it is the obvious one to ask now, right? She presented no direct evidence of any threat, and no witnesses to back up her assertions that she or her family was under threat. Actually,
her own son
failed to take the witness stand, tacitly admitting defeat. I know I would certainly testify if
my mother's life
, much less my own life, was in peril.
In my opinion
, she is so ignorant she needs to be removed from office before more people hear about it & listen to her on this website, weblog, podcast and beyond.
(2)
Timmons/Levesque's Motion for Continuance on her
Halloween Deposition
was denied
in my Civil Case against them in Hillsborough County Superior Court (South) for Defamation, Malicious Prosecution, First Amendment Conspiracy, etc., and correctly so, as I noted in my Motion to Vacate filed early this a.m. when I had been told erroneously, that the Court had granted the Motion for Continuance. Timmons already has copped six (6) extra weeks since the first properly-noticed Depo. of
19 Sept
.
What Gloria
really hates
is this blawg and her upcoming audio testimony. Her Deposition on Monday will further prove that. She also
hates my fliers
but that's just too bad, so sad, hard cheese, baby.
I gave her an out
. Today, I didn't even ask her if she took a page from the diary of
Elaine R. Jones, Esq
., the deposed NAACP Legal Defense Fund Director who resigned under valid ethics charges just a year ago See my
7 Oct. blawg
for a copy of the memogate memo with Senator Kennedy's Office on that one. Teddy (and actually most of the Kennedys) and Elaine have done Great Things in this World; instilled with me a spirit and commitment for social/human services and
Civil Rights
. But they nor Gloria Timmons may exercise fiefdom in the battle for Human Rights.
Peace
.