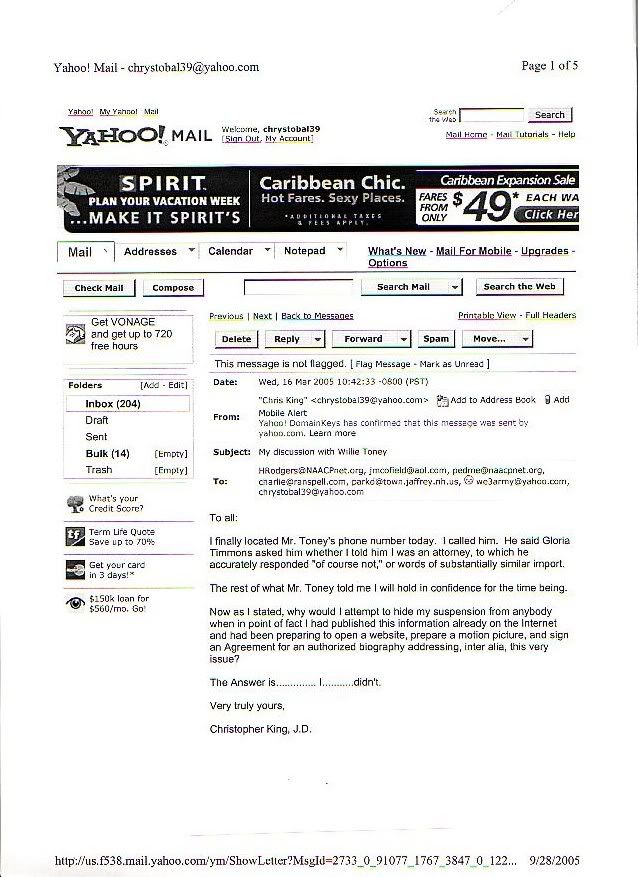 In the first one
, written after Willie Toney called me on
my 40th Birthday
, it's "funny" how
Chief Dunn's lawyer
and the City didn't produce this in the criminal discovery phase, even though one will
clearly see
that "charlie@ranspell.com" & city attorney "parkd" were
very much in the loop
about the bogus interview set up ostensibly to discover what happened to Willie Toney that was really an attempt to go on a fishing expediation against me to
"get out from under their own shit"
(from another email I will publish later). Willie Toney and Hannah Dunchas, his Lady, both said
"That Gloria..... she's no Good."
Meanwhile they
still
haven't provided me a taped copy of that goddamn interview. This totally supports my Conspiracy argument and the World public will see that when we finish the short film next week, and develop the major full-length production after that. They have no idea what and with whom they are f*cking with, or they don't care. Whatever, it's
ALL GOOD
.
In the second one
it is clear that Willie Toney told Gloria I never lied about my suspension from practice. Willie Toney appears briefly with me in the movie trailer at
my website
,
BTW
.