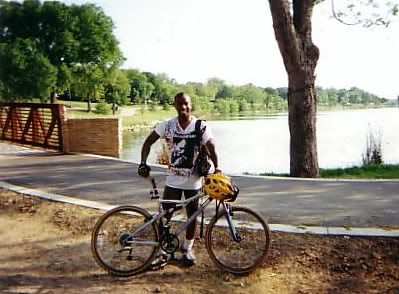 Okay,
my buddies from 2nd grade to high school
still like me, so not everybody hates me but one time
Judge Sheward
-- you'll see him (& also Judge Cain) grimace at me in the movie next week just after Sheward said this -- stammering at me in 1998 or so -- "I've had enough of your objections,
Mr..... Rock
."
"Your Honor, it's King," I reminded him. "King...."
When I send him a DVD of the movie, then, and when it's a major motion picture with his ass up there lookin' all evil with his lips poked out & his neck all red, then he'll remember; get it all sorted ;-)
So too, will
Mary Jo Kilroy, Esq.
, with whom I used to quaff beers, a progressive sellout who would later cut me off speaking as Pres. of Columbus City School Board, just 'cos she didn't like what I was saying. Then she got reamed out big-time by long-term
School Board member Loretta Heard
, (RIP to Ms. Heard and to
Bill Moss
, who both will appear in the movie next week)
"You're putting a very bad taste in the mouth of the black community when you do that young lady!!!"
[i.e. call the Columbus Police to stand near my clients and me at the speakers podium]. Got that all on video as teased in the
movie trailer
.
Anyway, here's some traffic weapons of The Man They Love to Hate:
The
'01 Gary Fisher Sugar 3
is the all-round favorite for city operations and you stay fit. Mine needs suspension work so I'm not riding it so I'm not fit. Because the
1986 Yamaha FZ 750
does not exactly inspire fitness, other than a set of strong abs and arms from being on the gas!! While y'all know I love me some SAABS (
see video clip inside
), like the
'89 900 Turbo Convertible
, the
'89 900SPG
and the
'88 900 Turbo Conv
,
German cars rule, too.
Back in '89 the
'83 VW GTi
(seen here with
"The Specials"
&
"Joy Division" -- sound clips!!!
stickers was just a scream; had 4 of those and later an
'88 Jetta 16V
that met an ungodly fate, not my fault.
Activist/client Jerry Doyle
was with me. What a hoot.
The BMW 2002tii ('72-'74) is one of the best cars ever built, period
. Then the
'83 533i
was good old-fashioned German sport-luxury, something no other country or manufacturer still quite matches. Ditto the
'87 535is
, seen here in front and
in back
of my childhood home in Cleveland Heights, from 1970 to this very day,
35 years later
.
See,
Chief Dunn
&
Nashua NAACP Prez. Gloria Timmons
try to imply that I'm not stable and have moved across the country in five states recently (like
Dissidents
&
Niggers
aren't allowed to move about the country?!?), but really you can always find me. I'm not hiding, as they thought or hoped I would for this
bogus criminal indictment
.
We were involved in a landmark racial steering case,
"Heights Community Congress v. Hilltop Realty"
to move into Cleveland Heights, and I was routinely called "nigger" on my way to school, sometimes my older sister had to step in and whup some ass, too. But most neighbors were cool and we played tennis together, babysat each other's kids, whatever. Solid.
Okay, so to close it out we have the
'81 528i
, which is one of the better-looking BMWs of all time, really, and as the first 5-series it ushered in a new era of sport-luxury now enjoyed by Yuppies and poseurs Worldwide who haven't a clue
what a roundel really is
:)
Hint:
it has to do with
airplanes
.
Next car:
A Prius GT
could be da bomb.
Peace
.